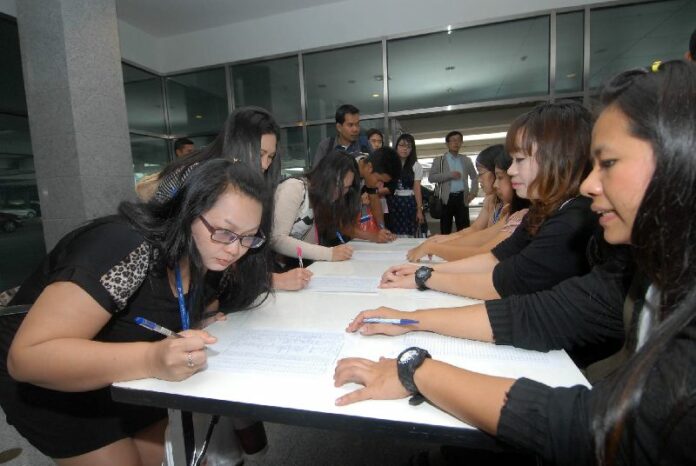 (4 February) Civil servants return to work at the Government Complex for the first time in several weeks, following a deal between the government and anti-government protesters.
Supporters of People′s Committee for Absolute Democracy With the King As Head of State (PCAD) have been laying siege to the Complex on Chaeng Wattana Road, which hosts many state agency headquarters, since their "shutdown" of Bangkok began on 13 January.
But a Buddhist monk allied to PCAD, Buddha Issara, agreed yesterday to re-open Building A of the Complex, while Building B and other agencies would still remain closed.
Following the successful negotiation, more than 1,500 officials, most of them staff of the Ministry of Justice, showed up for work today, amid heavy presence of Army soldiers, who were stationed there to guard the venue 24 hours a day as requested by the monk.
The officials were also required to sign into a notebook which record the time of their arrival and departure. Incoming and departing vehicles were similarly check thoroughly by the army officers.
Roads and entrances linked to the protesters′ main stage on Chaeng Wattana Road are still blocked, however.
Due to the partial re-opening of the Government Complex, many visitors are left confused and disappointed when they arrived at the Complex only to realise that the organisations they were seeking help from are still closed.
For instance, two visitors from Chiang Rai province told our correspondent that they had traveled to the Government Complex today in order to renew their Passports at the Department of Consular Affairs.
The pair said that they had been trying to get the document from the Consular Minor Office at Central Bang Na for two days. However, they missed out the maximum serving quantity of no more than 1,750 visitors a day.
They later decided to travel to the Consular Affairs at the Government Complex instead, and found out that the office is not yet opened. The pair told our correspondent that they had wasted money on transport and accommodation for nothing.
The disruption may as well delay their hope to get a job overseas, said the pair, who declined to identify themselves by real names.
Meanwhile, Buddha Issara claimed that he is willing to join the negotiation table with representatives of any organisations located in the Government Complex, particularly those related to the servicing of the public.
It is reported that officials at Ministry of Labour are also resuming their work today after the long absence. Reportedly, senior officials had led a religious ceremony at the Ministry before their work starts this morning, for good luck.
For comments, or corrections to this article please contact: [email protected]
You can also find Khaosod English on Twitter and Facebook
http://twitter.com/KhaosodEnglish
http://www.facebook.com/KhaosodEnglish