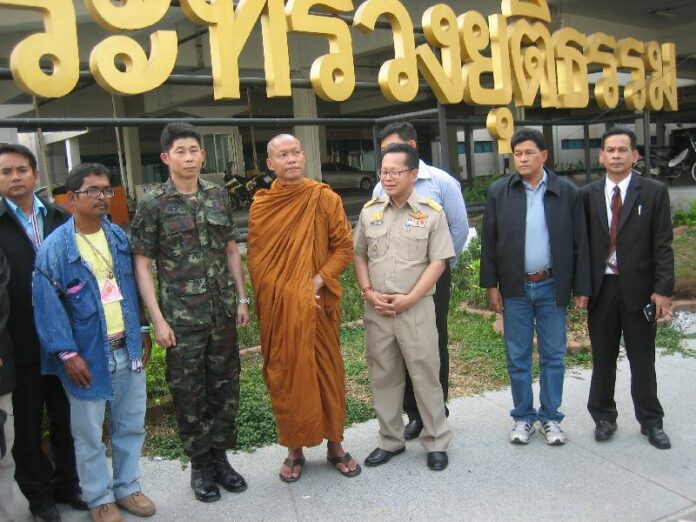 (4 February) Director of the Office of National Buddhism (ONAB) has vowed to defrock anti-government monk leader as soon as he is found guilty of violating the country's criminal laws.
Mr. Nopparat Banjawattanan said today that he has previously urged Nakhon Pathom Provincial Abbot Council to reprove Buddha Issara – the monk activist and core leader of the People′s Committee for Absolute Democracy With the King As Head of State (PCAD) – for his role in the ongoing protests.
Buddha Issara is the current de facto leader of PCAD′s rally site on Chaeng Wattana Road, where the protesters have been besieging the Government Complex for weeks. He was also allegedly in charge of armed PCAD guards when they clashed with pro-government supporters at Laksi district on Saturday.
According to Mr. Nopparat, the monk never responded to the dispatches from the ONAB, so the authority later appointed appointed Nakhon Pathom Governor to follow the issue. The Office eventually filed a legal case against Buddha Issara for violating Sangha laws.
Mr. Nopparat added that the Abbot Council has concluded that Buddha Issara had violated the regulation of the Sangha Supreme Council by engaging in political protests and inciting people into violence.
Since the Division of Special Investigation (DSI) has also summoned Buddha Issara to testify for the insurrection charge, the activist monk has violated both the Buddhist and the country′s Criminal Codes, said the ONAB director.
"It is clearly stated by law, that if any monk is charged for criminal offence, and if the court denies his bail, he must be defrocked at any time", said Mr. Nopparat.
However, Mr. Nopparat said it is beyond the authority of ONAB to arrest or apprehend Buddha Issara.
But Mr. Surapong Tovichakchaikul, Deputy Prime Minister, Foreign Affairs Minister and Advisor of the Centre for Maintaining Peace and Order (CMPO), said that CMPO will arrest Monk Buddha Issara as soon as the Criminal Court issue the arrest warrant.
Mr. Surapong also expressed his confidence that the authorities will eventually arrest the rest of the PCAD leaders, particularly those who had obstructed the election on 2 February.
According to Mr. Surapong, the PCAD′s attempt to disrupt the election has been well-documented by many evidences. He also warned that both leaders and ordinary protesters would face maximum penalty for their anti-election effort.
For comments, or corrections to this article please contact: [email protected]
You can also find Khaosod English on Twitter and Facebook
http://twitter.com/KhaosodEnglish
http://www.facebook.com/KhaosodEnglish