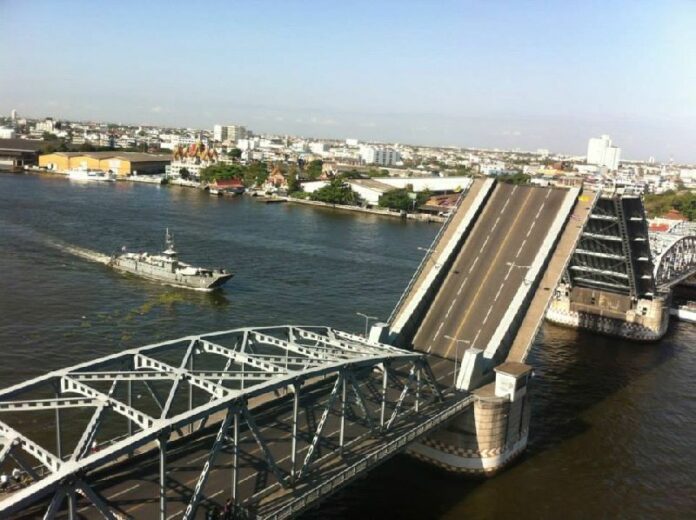 (4 February) Bangkok authorities are planning to preserve the 3 historic districts on the eastern side of the Chao Phraya River, as well as building 'River Walks' on the western side.
Mr. Sanya Cheenimitr, deputy permanent secretary of the Bangkok Metropolitan Administration (BMA), said the districts to be preserved are Phra Nakhon, Samphanthawong, and Pom Prap Sattru Phai.
The districts would also cover 4 historic communities such as Werng Nakhon Kasem, Charoenchai, Talad Noi, and Luenrit, which would be defined as old quarters of Bangkok under the plan, said Mr. Sanya, who also chaired a committee responsible for conservation and development of Bangkok′s Rattanakosin Island.
Demolition of historic buildings in the old quarters – mostly built in the reigns of King Rama V and Rama VI – would be banned, while maintenance and renovation of the buildings would be encouraged, Mr. Sanya said.
According to Mr. Sanya, the committee, which includes representatives from the Crown Property Bureau, The Siam Society, and representatives from the 4 aforementioned communities, plans to survey the buildings and start conserving and developing the area soon.
The development would also aim to preserve the lifestyle and cultures of the communities, Mr. Sanya asserted, adding that the plan is expected to boost historical tourism in Bangkok metropolitan area.
On the same day, president of the General Committee of Bangkok Metropolitan Council, Mr. Sutha Nitiphanont, also announced plan to build a walkway on the western bank of Chao Phraya River.
The bridge, which is expected to be 3 kilometres long, will allow pedestrians to walk from Bangkok Yai Canal to Klong San Canal along the Chao Phraya River. It will directly cut into the Kadeecheen Community, which is famous for its diversity of mixed races and religions.
The walkway is also designed to help prevent the erosion near the river, said Mr. Sutha.
Mr. Kriangphon Pattanarat, Director of the Department of City Planning, stated that his department has been studying the plan for 2 years and is currently cooperating with Chulalongkorn University to design the detail of the walkway.
According to Mr. Kriangphon, the full plan includes the development of the river walks on both sides of the river, but due to the available, the BMA will construct the walkways partially on the western bank first. .
The director of the Department of City Planning admitted that the plan may take "several years", and would rely on support from the people in that area, particularly local private establishments who will need to negotiate for compensation from the government regarding the construction of the river walks through their properties.
For comments, or corrections to this article please contact: [email protected]
You can also find Khaosod English on Twitter and Facebook
http://twitter.com/KhaosodEnglish
http://www.facebook.com/KhaosodEnglish