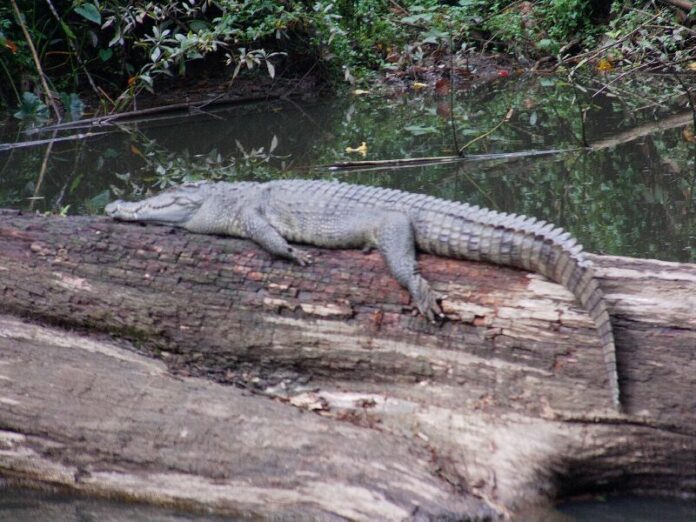 (5 February) Tourists visiting Khao Yai National Park have been warned to beware of a large, ferocious crocodile on the loose.
The crocodile was reportedly first spotted 6 years ago near Haew Suwat Waterfall by park rangers, when it was still a much smaller creature.
Now that the crocodile has grown into its adolescence, it becomes very large, very protective of its territory, and develop violent behaviour, said Mr. Patraphon Manee-On, Khao Yai National Park Veterinarian.
It is unclear where the crocodile came from, whether it was born in the Park, or was "abandoned" by a visitor, Mr. Patraphon said. The closest investigation the authority can do to determine its origin is to conduct DNA tests from the crocodile's droppings.
The authority had also tried several failed attempts, including calling for help from a crocodile farm from Chonburi province, to capture the creature.
In order to avoid undesirable incident, the authority placed warning signs written both in Thai and English to warn tourists to avoid the river in the park. It is believed that the crocodile has settled somewhere between the jungle track from Pha Kluay Mai to Haew Suwat Waterfall.
Several rangers are also instructed to stand ground in the area to warn tourists who use the tracks in the area, said Mr. Kritsada Homsood, Director of Khao Yai National Park.
Furthermore, the National Park authority has been concerned by recent disappearance of small animals in the area where the crocodile is thought to be residing, with evidence of missing monkeys and snakes. Skulls of monkeys found in the vicinity suggested that they might have been caught and eaten by the reptile.
"It is possible that the crocodile might harm visitors", stressed Mr. Patraphon.
For comments, or corrections to this article please contact: [email protected]
You can also find Khaosod English on Twitter and Facebook
http://twitter.com/KhaosodEnglish
http://www.facebook.com/KhaosodEnglish