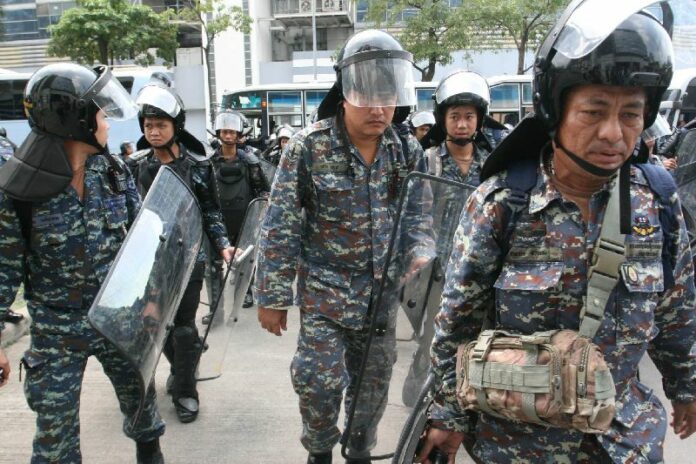 (5 February) The Royal Thai Army has refused to comply with the government for deployment of troops to protect Prime Minister Yingluck Shinawatra.
Deputy Prime Minister Surapong Tovichakchaikul has made the request after anti-government protesters led by the People′s Committee for Absolute Democracy With the King As Head of State (PCAD) targeted a Ministry of Defence building where Ms. Yingluck held meeting with her Cabinet members.
But Lt.Col. Winthai Suvaree, deputy spokesman of the army, said today that Mr. Surapong has to submit the request via an appropriate channel, which is the Office of the Permanent Secretary of the Ministry of Defence.
After the request is approved, the army divisions would be informed how many troops are needed, and what their missions will be, in order to arrange a suitable deployment for the operation to safeguard the Prime Minister, said Lt.Col. Winthai Suvaree.
"No one should expect the army to suddenly send troops without proper request, because that′s against the procedure," Lt.Col. Winthai explained, adding that the army is still waiting for "more clarity" from Mr. Surapong in his requests.
"As far as I know, Mr. Surapong only talked via the media," Lt.Col. Winthai said in a press conference, "There has been no written document requesting [the troops] so far".
His remark came amid speculation that the Royal Thai Army might be distancing itself from Ms. Yingluck′s embattled government. The government was forced to request presence of troops from a nearby Royal Thai Air Force base to protect the Prime Minister yesterday.
The army spokesman also asked the police to clarify their claim that three military officers were involved in the assassination attempt on Mr. Kwanchai Praipana, a local Redshirt leader in Udon Thani province.
"It lacks clarity," Lt.Col. Winthai complained, "If the army is involved, the police should back their claim with evidence," such as names, divisions, and their actual offences. Furthermore, Lt.Col. Winthai said, the suspects in question could be retired officers who are no longer associated with the military.
"That is just talking without evidence," Lt.Col. Winthai said.
For comments, or corrections to this article please contact: [email protected]
You can also find Khaosod English on Twitter and Facebook
http://twitter.com/KhaosodEnglish
http://www.facebook.com/KhaosodEnglish