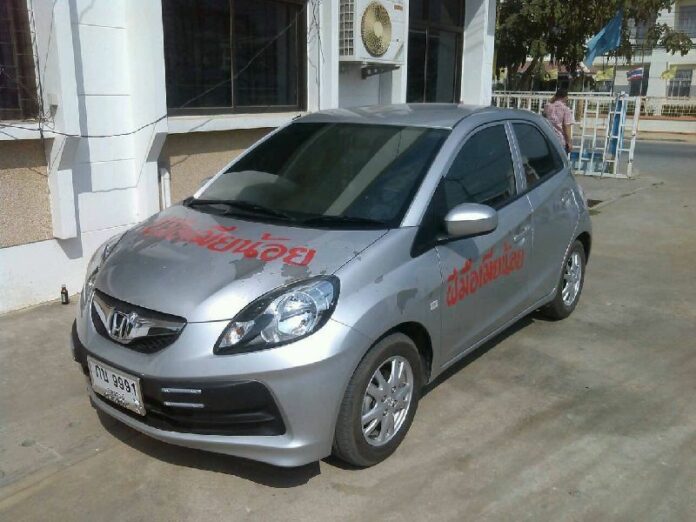 (5 February) A woman in Udon Thani province has been so fed up by alleged acid attack on her car by her husband's mistress that she chooses to tell the world about it.
Many baffled motorists have previously contacted Khaosod that they have spotted a car spray-painted with the words "The Mistress Did This!" all over the vehicle. Numerous marks of damages caused by acid could also be seen on the vehicle.
Contacted by our correspondent, the car own, who identified herself simply as Ms. Suphaphon, explained that her car has been attacked by acid for 4 times in the past few months.
Three of the attacks occurred at a parking lot of Ang Thong Hospital, while the fourth took place near Ang Thong Social Insurance Office, according to Ms. Suphaphon.
Ms. Suphaphon continued tearfully that she was certain that her husband′s mistress committed the attacks out of jealousy. She claimed that she has informed the police for numerous times of her suspicion, yet the police have done nothing to investigate the crime.
"So I became so bitter and angry that I want to declare to the public who did this to me," Ms. Suphaphon said.
She added that she and her children are now living under the fear that the alleged mistress might commit further intimidating acts against her. Ms. Suphaphon said she might consider seeking help from Paveena Women Foundation if the situation worsened.
However, police officers contacted by Khaosod insisted that the investigation is ongoing.
The police simply have no sufficient evidence to summon the alleged mistress for interrogation over the alleged crime, said one high-ranking officer.
"We are not ignoring this case," he added.
For comments, or corrections to this article please contact: [email protected]
You can also find Khaosod English on Twitter and Facebook
http://twitter.com/KhaosodEnglish
http://www.facebook.com/KhaosodEnglish