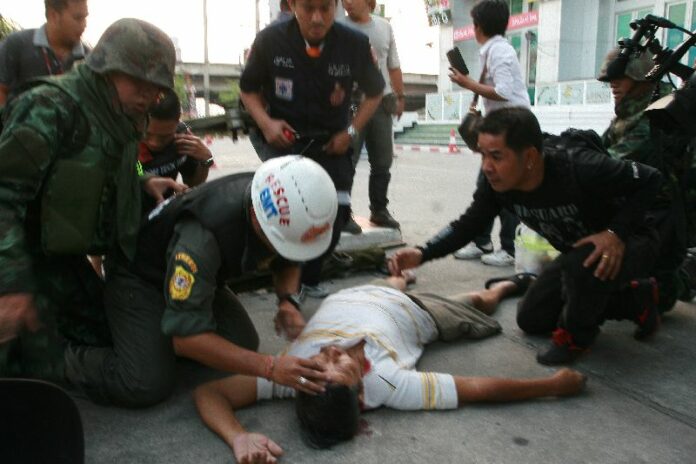 (5 February) Daughter of the elderly man paralysed by gunfire in pre-election violence has denounced the accusation that her father was a Cambodian gunman.
Mr. Arkaew Saelew, 71, was shot in the neck area by unidentified assailants during a gunbattle between pro-government supporters and the heavily armed militants allied to the People′s Committee for Absolute Democracy With the King As Head of State (PCAD) on 1 February at Bangkok′s Laksi district.
His daughter, Ms. Euangfah Saelew, has previously told reporters that her father was a demonstrator who had joined the protest in support of the election on 2 February.
Yet a number of anti-government social network sites have alleged that Mr. Arkaew was in fact a member of "Cambodian armed forces" who infiltrated Bangkok to sow chaos against PCAD supporters.
Some accusations also specifically identified Mr. Arkaew as a close aide to Cambodian Prime Minister, Mr. Hun Sen.
Upset by these accusations, Ms. Euangfah filed complaint with the police at Thoong Song Hong Police Station, urging the police force to prosecute those who spread "baseless" online rumours about her father.
"It′s baseless slandering," Ms. Euangfah told our correspondent, "My father is Thai. He has a Thai ID card. Such postings have damaged my father′s reputation and worsened his pain".
She expressed her hope that the police would also identify and arrest those who have shot Mr. Arkaew, but added that she dared not hope much since the authorities have not yet prosecuted anyone responsible for killing unarmed protesters in 2010.
Ms. Euangfah explained that her father was a Thai-Chinese resident of Songkhla province before he moved to Bangkok′s Laksi district where he settled down and made a living by selling soft drinks in front of a local school.
According to Ms. Euangfah, her father had never joined any protest before last Saturday. "He was interested in politics. He likes to follow the news on TV at his home".
She said she was contacted by Viphavadi Hospital at 18.00 on that day about her father′s injury.
"I was so shocked," Ms. Euangfah said, "I was made even more shocked and stressed to see people on the social media accusing my father of being a Cambodian gunman. It′s not true at all".
For comments, or corrections to this article please contact: [email protected]
You can also find Khaosod English on Twitter and Facebook
http://twitter.com/KhaosodEnglish
http://www.facebook.com/KhaosodEnglish