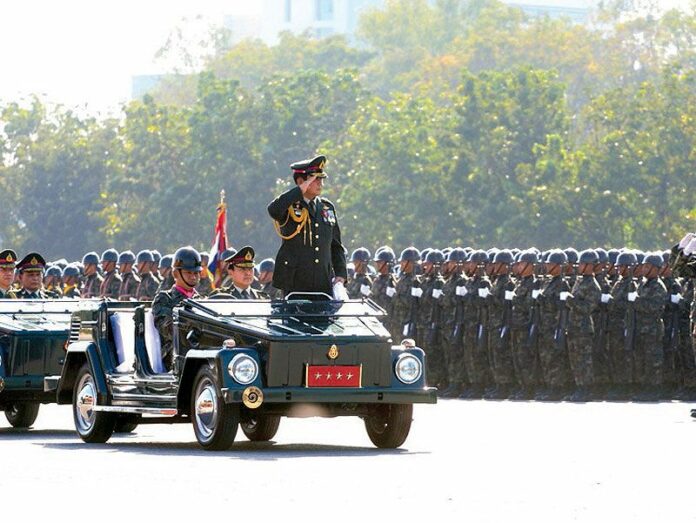 (7 February) The Thai military has vowed to coordinate with other law enforcement agencies to stamp out any criticism of the monarchy.
The move followed the Royal Thai Army′s threat to pursue legal action against prominent historian Somsak Jeamteerasakul for his Facebook posts, which the army deemed to be offensive toward the monarchy.
Defamation of the Royal Thai Family – or lese majeste – is punishable by up to 15 years in prison per offence, under the Article 112 of the Thai Criminal Codes.
"Commenting on personal capacity or on academic grounds without ill intent is the constitutional rights of the public," said Col Paphathip Sawangseang, a Ministry of Defence spokesperson, "But any comment that slanders [the monarchy] has troubled every military personnel".
Therefore, the Ministry of Defence and the Royal Thai Armed Force have instructed related authorities, including the Ministry of Information Technology and Communication, to closely monitor websites and social network sites which contain lese majeste contents.
The Ministry of Defence is required by mission to protect the national sovereignty, stability, and the monarchy, said Col. Paphathip.
He added that the military is consulting its legal teams in order to prosecute those who posted inappropriate remarks concerning the Thai Royal Family. The spokesman also called on "every Thai" to help defend the monarchy from any derogatory comments.
Meanwhile, Col Sirichan Nga-Thong, Deputy Spokesperson of the Royal Thai Army, stated that the Commander-in-Chief of the army has been "greatly concerned" about the issue, particularly concerning the circulation of criticism of the monarchy on the social media.
"It causes confusion to the public, and the people might be manipulated by individuals with ill intention," she said.
The army has already instructed all military units to thoroughly study possibility of legal action against those who insult the monarchy, Col. Sirichan said, adding that the military is relying on support of "social norm" to deter any criticism of the Royal Family.
"The army is responsible to protect and uphold the dignity of the monarchy, and we can assure all Thai people that we would proceed with the issue as far as we can", said Col Sirichan.
The spokeswoman claimed that the army has been continuously prosecuting critics of the monarchy since 2006.
"Some cases have been convicted and punished, and some cases are under the trial," Col. Sirichan said, "While some other cases are in the process of petitioning for Royal Pardon".
Widely regarded as the most outspoken critic of the Thai monarhcy, Mr. Somsak is also facing a separate lese majeste charge filed by the Royal Thai Army in 2011, following his criticism of a televised interview by Her Royal Highness Princess Chulabhorn.
Information of alleged license plate of Mr. Somsak′s car and his home address is also being circulated on a number of pro-monarchy social sites.
For comments, or corrections to this article please contact: [email protected]
You can also find Khaosod English on Twitter and Facebook
http://twitter.com/KhaosodEnglish
http://www.facebook.com/KhaosodEnglish