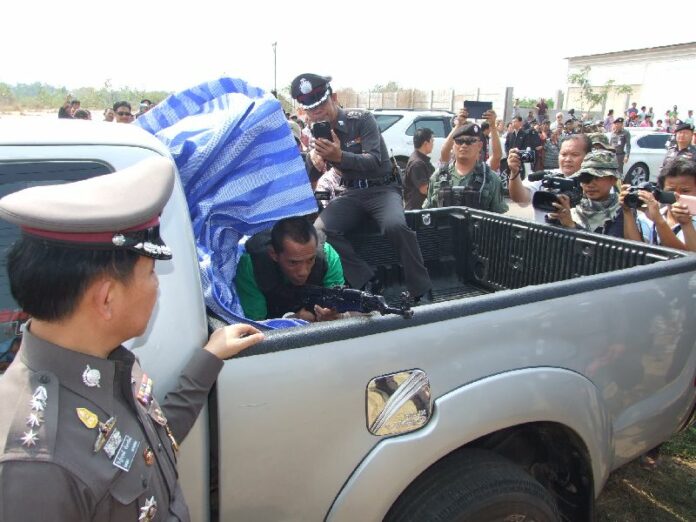 (10 February) The police are seeking arrest warrants of 6 Royal Thai Army sergeants in connection with an assassination attempt on a Redshirt leader.
Mr. Kwanchai Praipana, a local coordinator of the United Front of Democracy Against Dictatorship (UDD) in Udon Thani province, was shot at his residence last month by a group of assailants on a pick-up truck. Mr. Kwanchai was reportedly critically injured, but has been making stable recovery ever since.
Last week the police arrested one of the suspects who confessed he was one of the two gunmen who fired their AK-47 rifles at Mr. Kwanchai. The suspect claimed the team has disposed the firearms in a canal before they fled the province.
Mr. Manuedang Maesae also told the police the assassination team consisted of 6 army sergeants, which coincided with previous police reports that military personnel were involved in the operation.
The police stated that the arrest warrants for the 6 sergeants have been filed to Udon Thani Criminal Court, and they are expecting the court to approve the warrants soon.
According to sources inside the police force, the suspects being sought include a "ringleader" who organised and planned the operation; "Sergeant W", the shooter; "Sergeant M" who allegedly acted as a spotter for Sergeant W and Mr. Manuedang; the getaway driver; a sergeant who was tasked with reconnaissance of the target area; and another sergeant who planned escape routes for the team.
Police sources claimed that over 80 rounds were fired at Mr. Kwanchai, but only a few of them managed to hit the target.
Responding to the reports, Col. Winthai Suvaree, deputy spokesman of the Royal Thai Army, said the police have requested that the 6 military officers named as suspects in the criminal case meet with the police for investigation.
4 of the 6 suspects are personnel of the 9th Infantry Division, Col. Winthai said.
The military will give full cooperation with the police concerning the investigation, Col. Winthai said, and the army′s legal teams will also assist the 6 suspects in their court trials, as required by the army regulation.
The army and the police will discuss where the 6 suspects will be detained during the investigation, the deputy spokesman added.
"If they are found guilty, they will be discharged from the military," Col. Winthai insisted, "But in the meantime, until the case is finalised, we have to give them fairness".
For comments, or corrections to this article please contact: [email protected]
You can also find Khaosod English on Twitter and Facebook
http://twitter.com/KhaosodEnglish
http://www.facebook.com/KhaosodEnglish