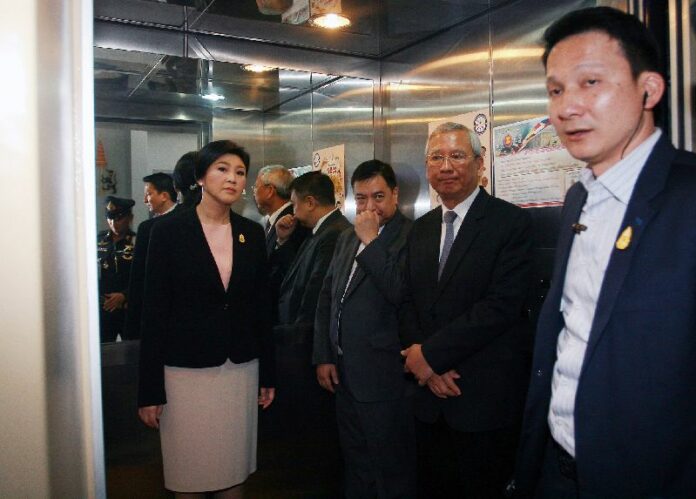 (18 February) The anti-corruption body has summoned Prime Minister Yingluck Shinawatra to acknowledge the allegation of abuse of power and other misconducts by 27 February.
The National Anti-Corruption Commission has previously appointed a secondary commission to investigate the controversial rice-pledging scheme, and later ruled that sufficient witnesses and evidences point to corruption in the program.
It is the latest blow to the embattled administration. On the same day, police failed to disperse anti-government protesters who have been occupying a number of roads in Bangkok in the bid to oust Ms. Yingluck.
The NACC stated that Ms. Yingluck, who chairs the National Rice Police Committee (NRPC), has been repeatedly warned of the potential corruption in every step of the scheme, yet she ignored the warnings and proceeded with the populist scheme.
According to the NACC, Ms. Yingluck has been informed about the unethical procedures in the mortgage scheme from the debate in the House of Representatives. She had also reportedly been aware that the programme eventually cost the state budget a losses of at least 200 billion baht, and that numerous farmers are not being paid in time.
An Office of the Auditor General of Thailand (OAG) had likewise submitted a letter to warn Ms. Yingluck to reconsider and suspend the programme, stating that there are several fraudulent actions in the scheme, the NACC said.
Therefore, the NACC argues, there are reasons to believe that Ms. Yingluck was given chances to terminate the programme yet she refused to do so, causing the NACC to accuse her of intentionally neglecting her duty as the head of administration which leads to damages to the public and corruption – an offence under Article 157 of the Thai Criminal Codes.
If Ms. Yingluck is found guilty of the charges, she could be deposed from her current position, as stated in Article 270 of the 2007 Constitution.
Mr. Wicha Mahakhun, member of the NACC, said it is unpredictable how long the investigation may take. He also denied the allegation that NACC and other independent agencies are conspiring to oust Ms. Yingluck.
The decision to dismiss Ms. Yingluck from her caretaker position as Prime Minister will be decided by the Senators. It should be noted that the term of elected Senators will expire in coming months, and the Senate will be occupied solely by appointed Senators who are mostly hostile to Ms. Yingluck.
It is unclear – if Ms. Yingluck is found guilty – whether her dismissal will be decided after the next round of election and appointment of the Senate is completed.
For comments, or corrections to this article please contact: [email protected]
You can also find Khaosod English on Twitter and Facebook
http://twitter.com/KhaosodEnglish
http://www.facebook.com/KhaosodEnglish