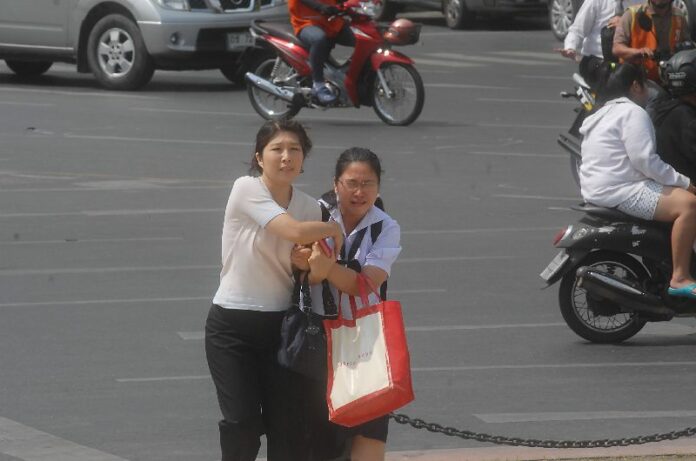 (18 February) Despite its extreme proximity to Democracy Monument where anti-government protesters battled with riot police, Satri Wittaya School was open as normal today.
The reason: final exam.
According to Ms. Benyapha, director of Satri Wittaya School, the school administration was aware of the violence in the vicinity, but ruled out closing down of the school as it is the final exam season for Matthayom 6 students.
The students need to complete the exam in order to apply for universities of their choices by this academic year, Ms. Benyapha said.
Although bullets and grenades were flying in the clashes near the school, "every student" managed to show up at the exam and accomplish their tests in accordance with the school schedule, Ms. Benyapha said.
For Matthayom 1-5 students, the school has arranged short class slots which allow them to leave for home by 13.35, the school director added.
The school will also open as usual tomorrow. However, Ms. Benyapha said, parents and students are advised to monitor the school website, http://www.satriwit.ac.th, just in case the school administration announces any change.
Supporters of the People′s Committee for Absolute Democracy With the King As Head of State (PCAD) were engaged in armed skirmishes with riot police earlier today. The clashes left at least three civilians and one policeman dead, while 60 other people were reportedly injured.
Other schools are not as resolute as Satri Wittaya, however. Director of Rajavinit Mathayom School, Mr. Boontham Pimpaphon, said he decided to shut down the school today due to the violence, but the school will open tomorrow.
Nevertheless, if the situation worsens again, students and other personnel might be advised to stay home tomorrow, Mr. Boontham added.
Ms. Sumonrat Astarakul, Director of Benjamarajalai School, stated that the school has shortened each class down to 40 minutes in order to let the student leave at 13.40. Parents are also urged to pick up their daughters as soon as possible.
The director told our correspondent that the school is reluctant to close, as it is the final exam season for every class. Since the protest has occurred for several times in the past months, Ms. Sumonrat believes that students and their parents have learned how to travel to the school safely.
However, students and parents are encouraged to check the school website; http://www.br.ac.th and its Facebook page to learn whether the school will be closed in the near future.
For comments, or corrections to this article please contact: [email protected]
You can also find Khaosod English on Twitter and Facebook
http://twitter.com/KhaosodEnglish
http://www.facebook.com/KhaosodEnglish