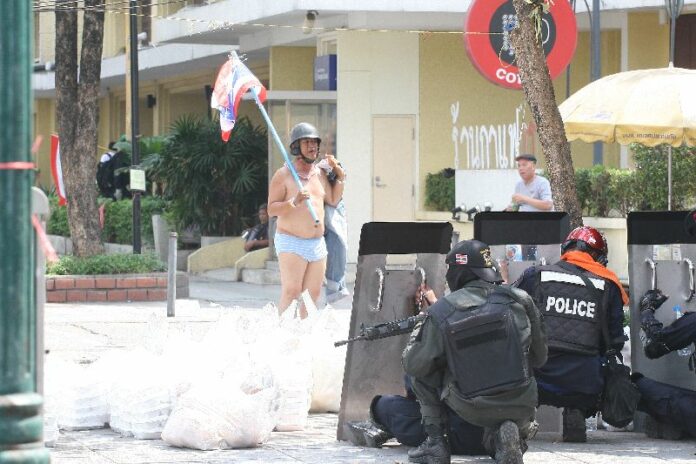 (19 February) Deputy Governor of Bangkok and other high-ranking administrative officials said they would skip work until political tension subsides.
Ms. Tridao Aphaiwong, spokesperson of the Bangkok Metropolitan Administration, explained in a press conference today that the decision to file leaves was meant to demonstrate political stance of the BMA executives.
The officials who would submit the casual leave include Deputy Bangkok Governor, Chief Adviser to the Governor, Adviser to the Governor, and Assistant Secretary to the Governor, Ms. Tridao said, adding that their leave would be immediately effective today.
According to Ms. Tridao, their leave of absence is intended to pay tribute to the loss of lives after the government launched crackdown against the People′s Committee for Absolute Democracy With the King As Head of State (PCAD) protesters on 18 February.
The crackdown claimed the lives of 4 civilians and 1 policeman. More than 65 people are reported injured.
The officials argued that the rights to peaceful protest are protected by the Thai Constitution, while the excessive use of force is against the rule of laws, Ms. Tridao said. She noted that the violence also occurred in areas under BMA responsibility.
The spokesperson said the BMA executives would resume work "once the political tension is eased". She did not specify when.
However, the Bangkok Governor, Mr. Sukhumbhand Paripatra, would be working as usual.
"In case of the Governor, in order to avoid allegation of misconducts, he would make a sacrifice by resuming his work as usual, but he would only work during the office hours," Ms. Tridao said, adding that the BMA will daily assess the situation to evaluate their further measures to prevent the loss of lives and restore the public safety.
It is reported that the group of BMA executives have already met with the Bangkok Governor yesterday at Suan Phakkard Palace to inform about the leave. The Governor reportedly approved their leaves out of respect for the officials′ rights to exercise political opinion.
Nevertheless, Mr. Sukhumbhand reportedly instructed the officials to assist the public as much as possible in every way.
For comments, or corrections to this article please contact: [email protected]
You can also find Khaosod English on Twitter and Facebook
http://twitter.com/KhaosodEnglish
http://www.facebook.com/KhaosodEnglish