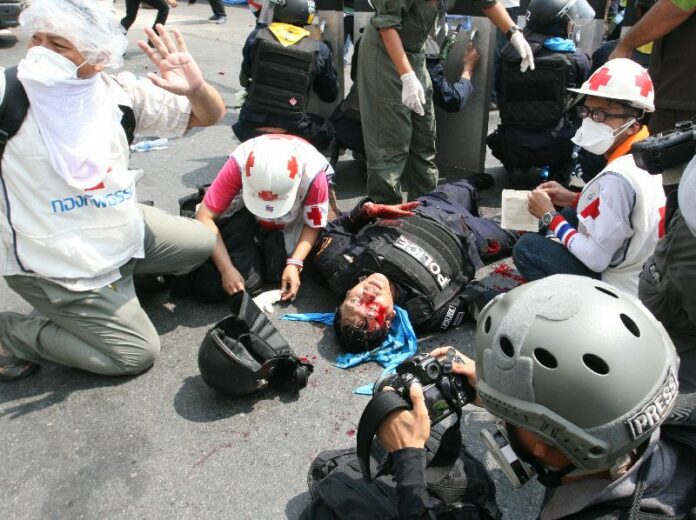 (19 February) The Royal Thai Army has denied allegation that some soldiers have aided anti-government protesters during their clashes with riot police in Bangkok yesterday.
At least four civilians and one policeman were killed in the violence near Phan Fa Bridge on Wednesday, which saw police officers exchanging gunfire with armed militants allied to anti-government protesters.
Some pro-government supporters accused the army of supplying weapons or gunmen to the protesters, but Maj.Gen. Warah Bunyasidh said the allegation is complete baseless.
"I′d like to condemn these rumours on the social media," Maj.Gen. Warah said, calling the allegation an attempt to "sow conflict among civil servants".
The major general made the comment as he inspected a detachment of troops stationed near Phan Fa Bridge by the Royal Thai Army to maintain public safety.
According to Maj.Gen. Warah, the army high command including Gen. Prayuth Chan-Ocha have instructed all soldiers to assist members of the public regardless of their political side.
"The soldiers have performed their duty in the best way," Maj.Gen. Warah insisted, stressing that the army has never given orders to soldiers to fire at the police.
As a measure to reinforce public safety in the area, Maj.Gen. Warah said he has ordered additional checkpoints and patrols to be established around protest campsite. He maintained that the soldiers would be able to respond rapidly to any incident and transport any wounded individuals to hospital in a timely manner.
The soldiers will not be armed, Maj.Gen. Warah added.
For comments, or corrections to this article please contact: [email protected]
You can also find Khaosod English on Twitter and Facebook
http://twitter.com/KhaosodEnglish
http://www.facebook.com/KhaosodEnglish