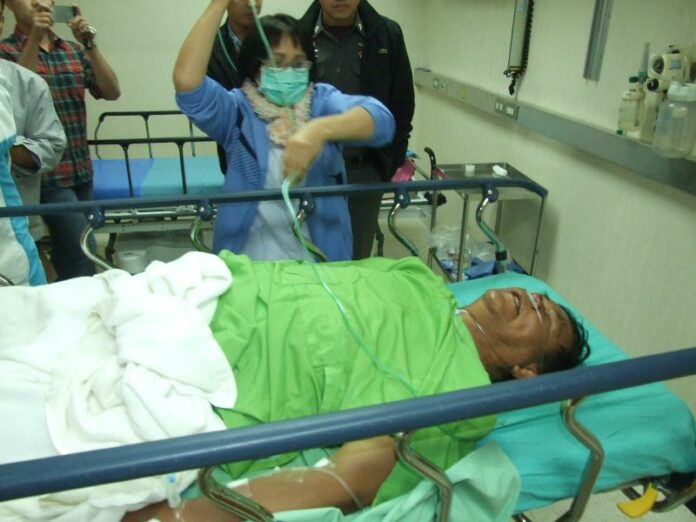 (19 February) After several days of delay, the Royal Thai Army finally delivered suspects accused of shooting a Redshirts leader to the police.
Capt. Prachya Chanrordphai, Sgt. Chanon Tabthimthong, MSGT Mawin Yangbua, and MSGT Wirote Pimsingh are wanted by the police for their alleged roles in assassination attempt of Mr. Kwanchai Praipana, a core leader of the United Front of Democracy Against Dictatorship (UDD), in Udon Thani province last month.
Mr. Kwanchai was severely injured by the gunfire, but has since recovered in hospital.
All of the suspects are based in 9th Infantry Division in Kanchanaburi province. Although the police have requested the military to turn the soldiers in for prosecution since last week, the army has delayed the process for days, leading to speculation that the army would not cooperate with the police.
However, the army finally delivered the 4 suspects to police in Khonkaen province at approximately 20.30 last night. Over 30 police officers guarded the Region 4 Provincial Police lecture centre where the suspects were handed to the police by a number of army officers.
A 6-car convoy escorted the 4 military officers to the centre, our correspondent added.
All suspects were fingerprinted, informed of their charges, and later interrogated for about 3 hours. They were later transported to a police unit in Udon Thani province for further interrogation.
A high-ranking police officer added that the police have also uncovered 3 AK-47 rifles believed to be used by the suspects during their assassination attempt. The officer claimed that the bullets retrieved from Mr. Kwanchai′s body matched the type fired from two of the confiscated rifles.
For comments, or corrections to this article please contact: [email protected]
You can also find Khaosod English on Twitter and Facebook
http://twitter.com/KhaosodEnglish
http://www.facebook.com/KhaosodEnglish