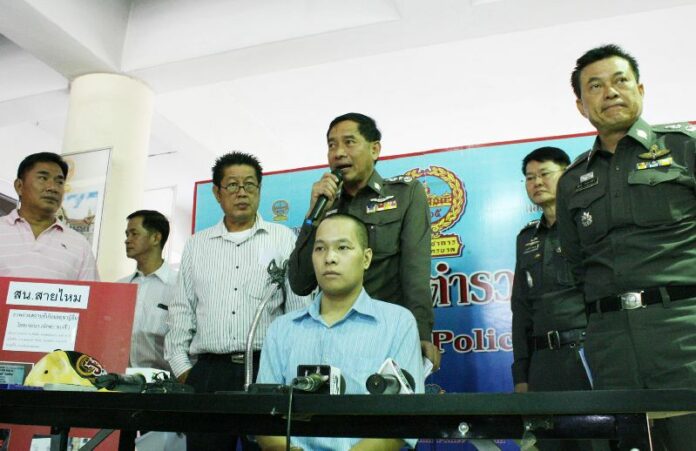 (19 February) A self-proclaimed Satanist worshiper claimed he killed a metal musician because the victim had insulted his belief in Satanism.
Mr. Prakarn ′San′ Harnphanbussakorn, 26, also said in a police press conference at the Bangkok Metropolitan Police headquarters today that he murdered the victim, Mr. Sam-Ong Traisattha, as an act of self-defence.
Police said Mr. Sam-Ong was a lead singer and bassist of the metal band "Surrender of Divinity" while Mr. Prakarn was described as a long-time fan of the band.
The wife of Mr. Sam-Ong, who was popularly known among the Thai metal community as his stage name ′Avajee′, alerted the police after he was found with stabbing wounds in his living room on 9 January.
Mr. Sam-Ong′s wife told the police Mr. Prakarn was present at their residence shortly before the incident.
The crime took another twist when Mr. Prakarn allegedly admitted to killing Mr. Sam-Ong on his Facebook account, which was registered under the name "Maleficent Meditation".
In the Facebook post, Mr. Prakarn allegedly claimed that Mr. Sam-Ong had insulted him by defaming Satanism, which was the faith of the suspect. The posting also stated that Mr. Prakarn had stabbed the victim for more than 30 times "because he deserves it", and that he remained perfectly calm after the murder.
The arrest warrant for Mr. Prakarn was soon issued. The suspect′s stepfather eventually contacted the police for his surrender on 18 February.
During the press conference, which was presided over by BMP chief Pol.Lt.Gen Khamronwit Thoopkrajang, Mr. Prakarn admitted that he had harboured a hatred toward Mr. Sam-Ong because he liked to mimic Satan and Satanist worshiper on the performance stage.
The suspect said prior to the murder he paid visit to Mr. Sam-Ong′s residence, and both men drank some alcoholic beverage over conversation. The chat grew hostile after Mr. Sam-Ong allegedly expressed his disbelief in Satan and "insulted" the belief in Satanism, which greatly enraged Mr. Prakarn, a devoted Satanist.
Mr. Prakarn told reporters he and Mr. Sam-Ong eventually got in a fight, and the deceased lunged a knife at him, so he had no choice but to stab Mr. Sam-Ong in self-defence.
The suspect also denied posting on his Facebook after he fled the scene, adding that he had no time for social network when he was trying to elude the police.
However, Mr. Sam-Ong′s wife and his other relatives who were present at the press conference were angered by Mr. Prakarn′s suggestion that the victim started the fight. Mr. Sam-Ong′s widowed wife shouted "Liar!" at the suspect, while the victim′s relatives attempted to mob him.
The police immediately intervened by escorting Mr. Prakarn away from the press conference. The investigation is ongoing.
For comments, or corrections to this article please contact: [email protected]
You can also find Khaosod English on Twitter and Facebook
http://twitter.com/KhaosodEnglish
http://www.facebook.com/KhaosodEnglish