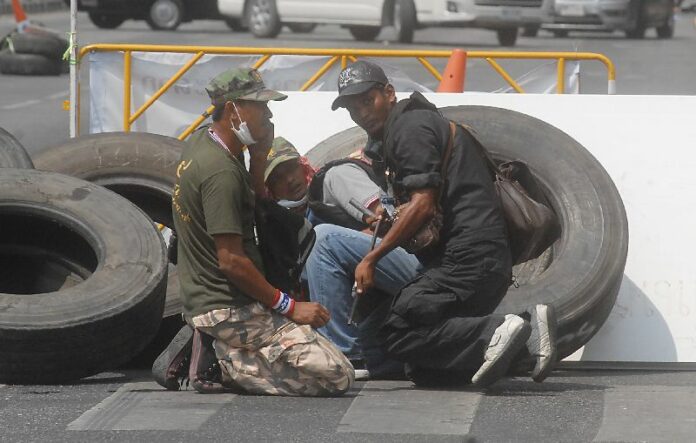 (19 February) The Civil Court has sided with anti-government protesters by effectively stripping the government of many powers provided by the emergency decree.
The case was filed to the court by Mr. Thaworn Senniam, a core leader of the People′s Committee for Absolute Democracy With the King As Head of State (PCAD), who argued that the State of Emergency enacted by the government of Prime Minister Yingluck Shinawatra violates the rights to free assembly guaranteed by the 2007 Constitution.
The filing named Ms. Yingluck and two commanders of the Centre for Maintaining Peace and Order (CMPO) – Mr. Chalerm Yoobamrung and Pol.Gen. Adul Saengsingkaew – as the defendants.
Under the emergency decree, the authorities can use broad power to contain the protests, such as arresting and detaining individuals without charge, sealing off areas, seizing buildings or properties, and censoring the media.
At 15.00 today the majority of the judges ruled that the government will not need to repeal the State of Emergency, but the verdict also prohibits the authorities from exercising many powers prescribed in the emergency decree.
According to the verdict, the security forces cannot launch a crackdown on anti-government protesters, seize any chemicals from the protesters, dismantle any barricades erected by the protesters, prevent individuals from entering any building at their own will, close down traffic, evacuate or seal off protest areas.
Most notably, the authorities are also prohibited from banning political gathering – the crucial aspect of the emergency decree.
It should be noted that a minority of the judges (one-third of the panel) even went as far as recommending that the government repeal the State of Emergency altogether, on the ground that PCAD demonstrators have been "peacefully" exercising their rights under the Constitution "without any weapons".
The verdict came a day after deadly clashes erupted on Ratchadamnoen Avenue, where riot police attempted to disperse anti-government protesters who have been camping there for several weeks.
The clashes saw some police officers exchanging gunfire with armed militants allied to the PCAD. Several explosives were also thrown from the PCAD position toward the police, witnesses said. At least four civilians and one policeman were killed in the violence, while more than 60 people were injured.
The Civil Court′s verdict will likely anger many supporters of the government, who have long accused the judicial powers of conspiring with the protesters to oust Ms. Yingluck and her elected government.
Meanwhile, Mr. Chavanond Intarakomalyasut, spokesman of the Democrat Party, posted on his Facebook account that Her Royal Highness Chulabhorn had granted a royally-blessed dirt to the Islamic funeral of Mr. Suphot Boonrong, a PCAD protester who was killed in the clashes yesterday.
For comments, or corrections to this article please contact: [email protected]
You can also find Khaosod English on Twitter and Facebook
http://twitter.com/KhaosodEnglish
http://www.facebook.com/KhaosodEnglish