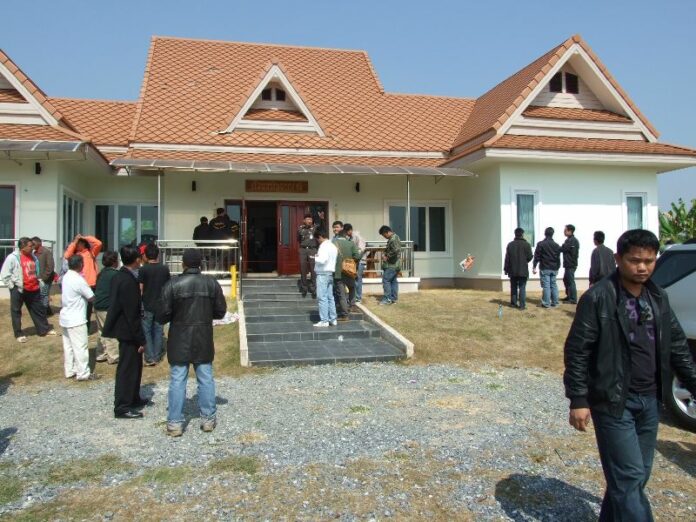 (21 February) The Redshirts core leader who survived a drive-by shooting at his residence refuted the rumour that he was paralysed by the incident.
Mr. Kwanchai Praipana was severely wounded when gunmen on a pick-up truck opened fire at him while he was standing in his house in Udon Thani province last month. His close aides have repeatedly told reporters that the Redshirts activist is making good recovery, yet many Redshirts believe he had been paralysed or subject to other critical injuries.
Today, Mr. Kwanchai settled the matter by talking on a radio interview with DJ Chakkrapong 'Kong' Saenkham to confirm that he is alive and well.
The Redshirts leader stated in the show that he can now move his hand and raise his arms. He had also started learning to walk again recently and will need to go through another operation on 11 March to fix his blood vessel. He added that he is staying at an undisclosed hospital in Bangkok.
Mr. Kwanchai then advised Redshirt supporters to be more relaxed and consider Thai politics as a "comedy". "Don′t be too stressful," Mr. Kwanchai said.
Nevertheless, he offered his political opinion to the listeners, stating that the People′s Committee for Absolute Democracy With the King As Head of State (PCAD) is still fighting to overthrow this government, because they are backed by "someone powerful".
"Universally accepted democracy is how the voice of the majority is heard", the Redshirt core leader insisted, "I will definitely going for the Senator election on 30 March, as I am now feeling well enough". Mr. Kwanchai previously participated in 2 February election by showing up at the polling station on a hospital bed.
He also encourages his fellows to go for the election of MPs and the Senators in order to raise their voices after they have been fighting for almost 8 years to restore democracy ever since former Prime Minister Thaksin Shinawatra was ousted by 2006 military coup.
Police said they have arrested one civilian and four military officers who were reportedly engaged in the shooting of Mr. Kwanchai. Mr. Kwanchai said in the interview that the police have informed him they are investigating the suspects and finding out about the person who plotted the assassination.
Meanwhile, Mr. Kwanchai's aides have also released an image of Mr. Kwanchai surrounded by his wife, Ms. Ar-phon Sarakham, and close relatives during his stay at the hospital in Bangkok as another means to quell the rumour about his death or paralysis.
For comments, or corrections to this article please contact: [email protected]
You can also find Khaosod English on Twitter and Facebook
http://twitter.com/KhaosodEnglish
http://www.facebook.com/KhaosodEnglish