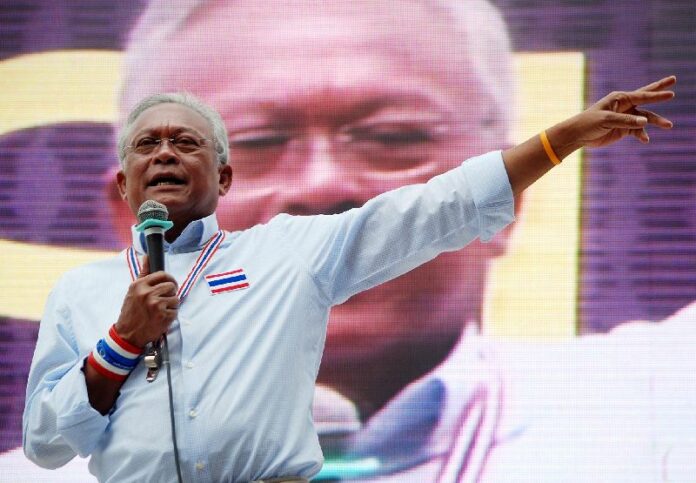 (21 February) Deputy Spokesperson of Pheu Thai Party has urged the police to protect Redshirts supporters following a threat from the anti-government protest leader.
Mr. Suthep Thaugsuban, leader of the People′s Committee for Absolute Democracy With the King As Head of State (PCAD), yesterday delivered a speech in which he
warned
Redshirts that they might encounter "popcorn vendors", a euphemism for armed militants believed to be allied to PCAD movements.
"Go ahead. Come. The popcorn vendors have already prepared the popcorns for you. Don′t blame me if the vendors serve popcorns at you," Mr. Suthep was quoted as saying.
Pheu Thai Deputy Spokesperson, Mr. Anusorn Eiamsa-ad, branded Mr. Suthep′s action as provoking violence, and threatening the supporters of the other party.
He said that the statement could be implied that Mr. Suthep has acknowledged links to the "popcorn gunmen", and that he might have previously appointed the assailants to sow chaos and violence in the past.
Mr. Anusorn also questioned whether the Thaugsuban family is addicted to the use of violent force. He noted that PCAD leader had previously challenged Mr. Chalerm Yoobamrung to a fist fight, while his former party member and biological brother, Mr. Thanee Thaugsuban, had strangled another MP in a parliamentary debate.
Mr. Suthep′s another biological brother, Mr. Chane Thaugsuban, had also earned nickname from the public as 'Chane, the chair thrower' (เชนปาแชร์) after he propelled a chair during the meeting in the House of Representatives, Mr. Anusorn said.
The Pheu Thai deputy spokesperson then urged the peacekeeping authorities such as the police to closely observe the march of the The United Front for Democracy Against Dictatorship (UDD) on 23 February to prevent any harmful incident arising from Mr. Suthep's threat.
In the same press conference, Mr. Anusorn also commented that Monk Buddha Issara, one of the PCAD core leaders, is acting inappropriately in his monkhood.
Monk Buddha Issara had led a group of people to SC Park hotel before demanding for compensation worth of 120,000 baht, since the hotel refused to allow PCAD protesters to check in.
"He is becoming more and more independent (Issara) [of religious authorities], and has gone beyond his status as a monk, or at least as a Buddhist", asserted Pheu Thai Deputy Spokesperson, adding that the monk is known to have hatched violent acts with his team.
Mr. Anusorn also expressed his firm believes that Monk Buddha Issara will soon be charged with extortion for his action at SC Park Hotel.
For comments, or corrections to this article please contact: [email protected]
You can also find Khaosod English on Twitter and Facebook
http://twitter.com/KhaosodEnglish
http://www.facebook.com/KhaosodEnglish