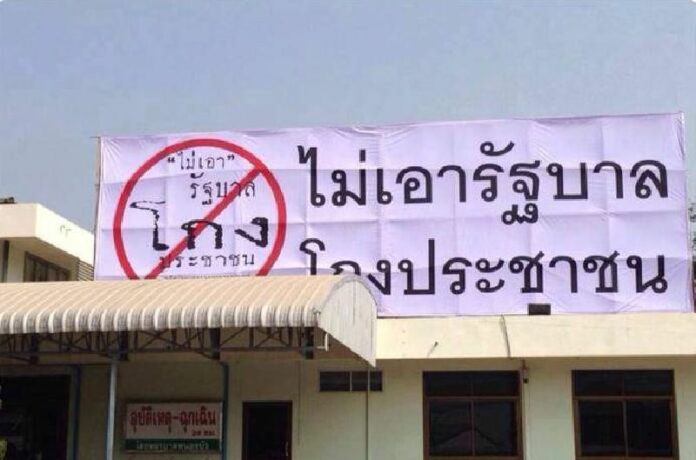 (27 February) A hospital in Nakhon Sawan province has removed an anti-government banner on its rooftop following a protest by the Redshirts.
The banner, which was displayed at Nong Bua Hospital in Nong Bua district before its removal, stated that its staff are against the "corrupt government" of Prime Minister Yingluck Shinawatra.
It was placed at the hospital after a group of doctors and medical workers under the supervision of the Ministry of Public Health called for all hospitals across the country to express their stance against Ms. Yingluck′s government.
The announcement also urged medical workers to dress in black to symbolise their political stance.
Over 500 Redshirts supporters gathered at the hospital earlier today to voice their anger at the hospital administrators. The demonstrators also asked to meet with Mr. Chaiwat Pongtaweeboon, M.D., and requested that the hospital remove the banner.
However, the hospital staff refused, while a group of doctors and nurses with whistles – symbols of the anti-government campaign – hung around their necks appeared near the hospital entrance to observe the Redshirts.
The protesters became enraged, and some tried to climb to the rooftop and remove the banner, but they were stopped by the hospital security guards. Meanwhile, some anti-government medical workers started to argue loudly with the Redshirts, and the situation was suddenly tense.
Mr. Chaiwat eventually met with the Redshirts and ordered the banner to be taken down to defuse the confrontation. The move satisfied the demonstrators, who promptly dispersed from the scene.