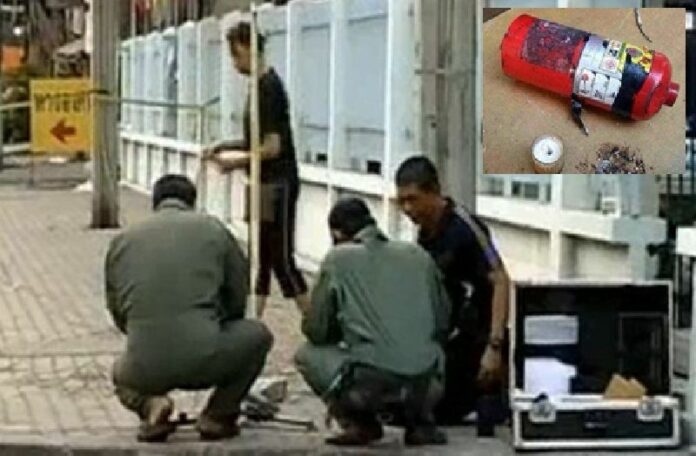 (28 February) A homemade explosive device has been planted by unknown individuals near a Redshirts rally site in Nonthaburi province.
The bomb was found at around 06.30 in front of Public Waterworks office on Tiwanon Road in the province.
A group of Redshirts demonstrators led by the People′s Radio for Democracy (PRD) have been staging a rally at the National Anti-Corruption Commission (NACC) headquarters nearby.
EOD team later arrived at the scene and determined that the device was composed of fertiliser mixed with gasoline, chains, shards of glass, and a number of "C4 explosives" filled inside a fire extinguisher.
According to the police, the bomb was "highly destructive" and had a blast radius of over 200 metres. Similar types of the devices are commonly found in the restive southern border provinces, an officer added.
The bomb was eventually destroyed by the EOD team.
The police speculated that the bomb carrier initially meant to plant the device near the Redshirts rally at the NACC office, but was forced to abandon the plan and leave the bomb behind when the carrier spotted a police checkpoint in the area.
However, Mr. Sansern Ponjiad, the secretary-general of the NACC, told reporters he believed the bomb was intended to intimidate the anti-corruption commissioners.
Mr. Sansern said unknown assailants have previously planted explosives by the wall of the NACC office.
"This kind of intimidation is illegal," Mr. Sansern complained, "Please put an end to such action".
For comments, or corrections to this article please contact: [email protected]
You can also find Khaosod English on Twitter and Facebook
http://twitter.com/KhaosodEnglish
http://www.facebook.com/KhaosodEnglish