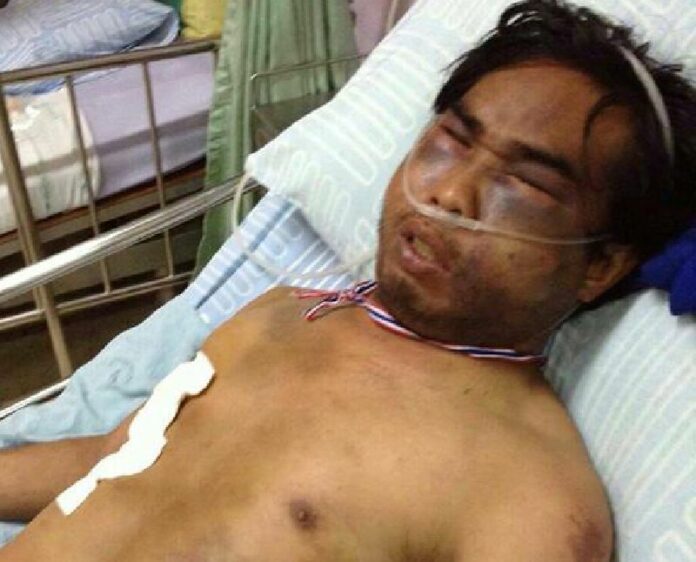 (4 March) A member of the Redshirts has been beaten and left to die in a river east of Bangkok by a group of anti-government militants, police reports claim.
The police said in a statement that Mr. Yuem Villa was found near Bang Pakong River by locals in Chachoengsao province few days ago.
He was reportedly sent to Bang Pakong Hospital where he is still being treated for his injuries.
According to the police, Mr. Yuem identified himself as a security guard and a member of the United Front of Democracy Against Dictatorship (UDD). He is also described as a native of Uttaradit province and an employee of Lohakij Auto Parts Import Company in Bangkok.
Mr. Yuem reportedly said he was relaxing in Lumpini Park on the morning of 24 February when he was approached by a pair of anti-government protest "guards".
The guards allegedly belonged to the People′s Committee for Absolute Democracy With the King As Head of State (PCAD), which has been organising rallies in the vicinity of Lumini Park.
Police reports claim that PCAD guards searched Mr. Yuem and found a UDD membership card which was issued in 2010. Upon the discovery, the PCAD guards allegedly escorted Mr. Yuem to a tent where a PCAD core leader, Mr. Issara Somchai, interrogated him and several guards physically assaulted him.
Mr. Yuem was reportedly detained in the tent until 1 March, when, according to the reports provided by the police, the guards tied his hands and feet and placed him into a car.
The guards allegedly drove Mr. Yuem to a bridge over Bang Pakong River on Bangna-Trat Road and proceeded to drop him into the river, with his feet and hands still bound by ropes.
However, he was promptly rescued by a group of locals who were on a boat nearby, the police said.
Medical workers at Bang Pakong Hospital said Mr. Yuem suffered bruises on his body while his lung was also damaged.
The police say the investigation is ongoing.
Reports of violent acts and intimidation committed by PCAD guards have been circulating in the media in recent weeks. Some of the guards are believed to be armed.