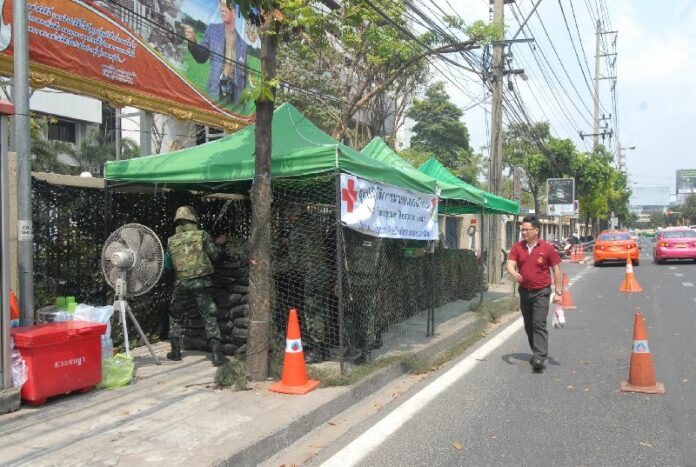 (6 March) Commander-in-Chief of the Royal Thai Army has suggested that troops checkpoints in Bangkok might be redecorated to convey a friendly appearance.
"We may place flowers on them and install some pink curtains," Gen. Prayuth Chan-Ocha told reporters today.
His remark came after a number of citizens complained that they felt intimidated by various "bunkers" manned by army troops in downtown Bangkok.
The bunkers – mostly composed of sandbags and green camouflaging nets – have been constructed around the perimeter of the protest sites of the People's Committee for Absolute Democracy With the King As Head of State (PCAD) in recent weeks.
Army officials insisted that the soldiers were not armed, except for a few officers who were permitted to carry handguns, and their presence was aimed to maintain public safety amid the spree of almost-nightly attacks on protest sites.
Nevertheless, the troops deployment drew criticism from pro-government supporters who view the army as siding with PCAD protesters, and Prime Minister Yingluck Shinawatra has recently expressed her concern that presence of soldiers in financial districts of Bangkok may damage the country's image.
Gen. Prayuth said he accepted these complaints, but also asked the public to understand the army.
"We have to build the bunkers to shelter the soldiers, because the soldiers were not armed," Gen. Prayuth said.
He added, "We will make the bunkers look more friendly. But soldiers are soldiers. Do you want us to look weak and humble and neat like traditional dancers?"