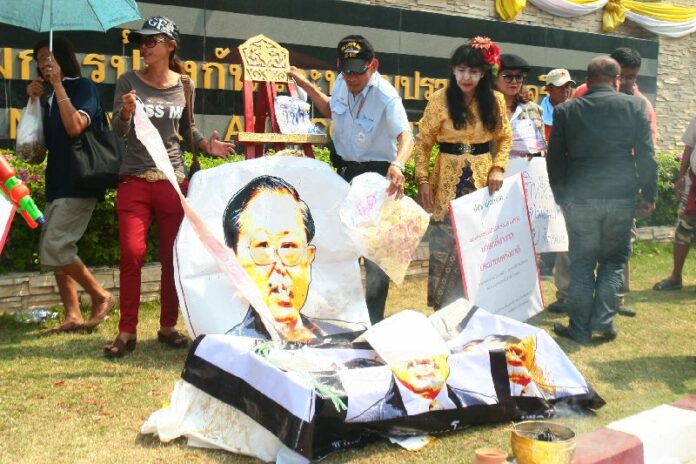 (13 March) A group of Redshirts protesters has staged a mock funeral service to condemn the director of the National Anti-Corruption Commission in front of his office today.
Led by a local Redshirts group called People's Radio for Democracy (PRD), over 100 protesters marched to the NACC headquarters in Nonthaburi province with two loudspeaker trucks at around 10.00 today, prompting police officers to seal all gates of the compound to prevent the protesters from intruding into the NACC office.
The PRD activists then proceeded to organise the mock funeral dedicated to NACC director, Mr. Wicha Makakhun, who has been accused by the Redshirts of harbouring prejudice against the government of Prime Minister Yingluck Shinawatra and conspiring with anti-government protesters to depose her.
The NACC has previously summoned Ms. Yingluck to hear her charge of corruption concerning the controversial rice-pledging scheme. If proven guilty, Ms Yingluck might be removed from her caretaker position.
The mock funeral was complete with a coffin, funeral wreaths, relics for Buddhist cremation, while a sanitary pad was placed atop the coffin to curse Mr. Wicha's spirit in accordance with folk belief. The coffin was later burned to represent a mock cremation ceremony.
The activist also hung large poster bearing the portrait of Mr. Wicha on the NACC main gate, and hurled bags of human feces at the banner to express their disgust at the NACC chief.
Mr. Sornsak Malaithong, a core leader of the PRD, said he is angered by the NACC's alleged enthusiasm to pursue corruption charge against Ms. Yingluck while the Democrat Party has been left unscathed despite several pending corruption charges against the Democrat-led former government.
He also threatened to "escalate" the protest against the NACC should the agency continue to persecute the elected government.
"There will be no more dialogue," Mr. Sornsak said, "We cannot let the fake NACC who has been tasked with the job of overthrowing the government to continue their works. If they have any conscience, they must announce an end to prosecution of Ms. Yingluck"
"Otherwise, the people will persistently harass the NACC board in every step," he added.
A representative of the NACC later met with Mr. Sornsak to receive the PRD's complaint letter addressed to NACC directors.