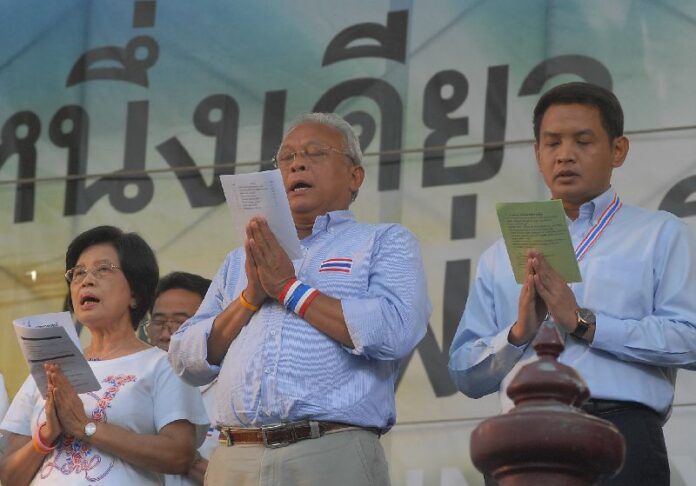 (13 March) The Redshirts are set to launch an exhibition to "expose" the alleged corruption and sordid background of anti-government protest leader Suthep Thaugsuban.
Named "Thalok Nang Thaug" (Skin Thaug – a nickname of Mr. Suthep), the exhibition will be hosted at the 6th floor of Imperial Ladprao shopping mall from today onward, said Mr. Nattawut Saikua, a core leader of the United Front of Democracy Against Dictatorship (UDD).
The event will feature videos, photos, and information which would persuade the audience that Mr. Suthep is in fact a corrupt and hypocrite politician who exploits the mass in the name of anti-corruption crusades. Mr. Suthep's "personal background" will also be discussed in the exhibition, Mr. Nattawut, without giving specific examples.
"So the whistle mob can visit the expo and make up their mind whether to continue to support this person," Mr. Nattawut said.
In the press conference, the UDD chariwoman, Ms. Thida Thawornseth, added that the Redshirts are due to mobilise for a mass rally in Ayutthaya province on 15 March. She said the UDD will encourage Redshirts in Bangkok and other regions to attend the rally, which was billed as the "drumming for war".
However, Ms. Thida quickly stressed that the term refers to "political fights" in accordance with democratic principles, not a military struggle.
"The UDD merely has political aspirations," Ms. Thida said.