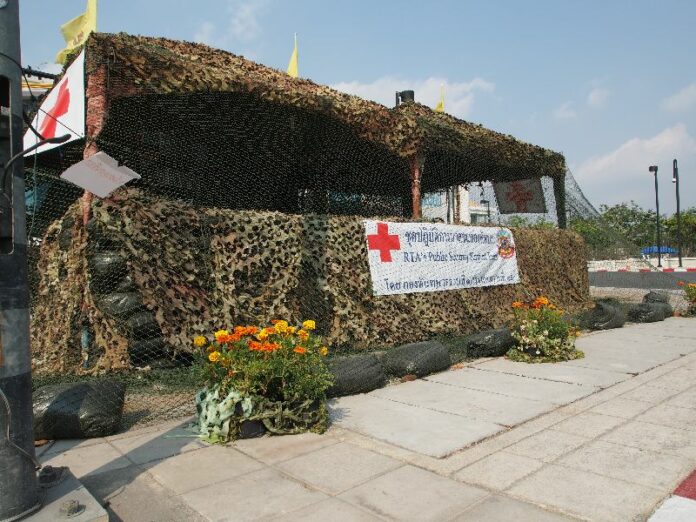 (22 March) A senior Thai Red Cross official has expressed concern over the display of the Red Cross sign at security checkpoints manned by Thai army troops in Bangkok.
The Royal Thai Army has installed more than 170 checkpoints – nicknamed "bunkers" due to their use of sandbags and camouflage – in downtown Bangkok. Their stated purpose is to provide security to the public amid the ongoing anti-government protests.
However, some members of the public have raised concern over appearance of the Red Cross sign on many of the bunkers, as it might violate the International Red Cross guidelines.
Mr. Pichit Siriwan, M.D., deputy director of the Relief and Community Health Bureau, which operates under the Thai Red Cross, said, while military units are allowed to display Red Cross signs, they must be strictly unarmed and clearly identified as non-combatant personnel.
The use of Red Cross signs must also be approved by the relevant authorities first, Mr. Pichit explained.
"If the situation is not life-threatening, and if it is not a war time, I think they should avoid displaying [the Red Cross signs] altogether," Mr. Pichit told our correspondent, adding that the symbols have been routinely misused by political groups whereas they should have been adopted only by impartial volunteer groups.
"I have asked many times that the Red Cross sign not be used," Mr. Pichit complained, "Every side should respect the use of the symbol, so Red Cross International can remain an impartial agency that helps people in critical situations".
Nevertheless, Mr. Pichit refused to comment on the authenticity of an alleged Thai Red Cross letter which was purportedly filed to the Royal Thai Army, requesting the military bunkers cease their display of Red Cross symbols on their banners.
In the purported letter, which is widely shared on the social network, the authors complain that armed soldiers are sometimes stationed inside bunkers bearing the Red Cross signs.
"I didn't sign that letter, so I can't comment about that," Mr. Pichit said.