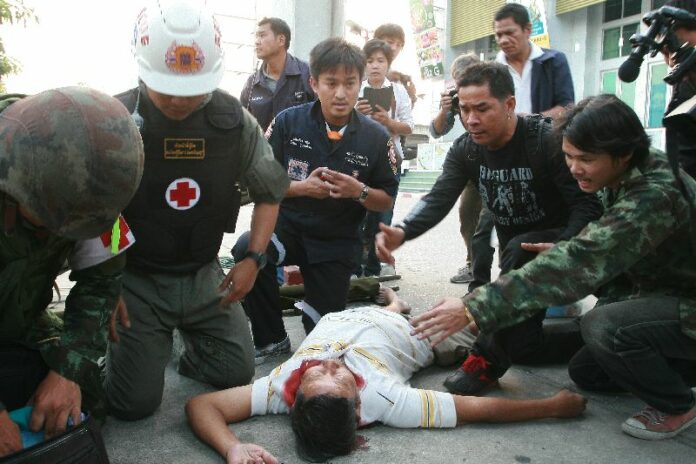 (28 March) Daughter of the elderly man paralysed by the pre-election violence last month has publicly called on the national human rights body to assist their family.
According to Ms. Euangfah Saelew, only one official from the National Human Rights Commission (NHRC) has visited her 71-year old father, Mr. Arkaew Saelew, in hospital.
During that visit, Ms. Euangfah said, the official did not make any meaningful inquiry about the incident which left Mr. Arkaew in severe condition.
The incident was the gun battle on February 1st in the Laksi district in northern Bangkok, in which armed militants allied to anti-government protesters skirmished with the outgunned pro-government demonstrators, a day before the general election. Mr. Arkaew was hit in his neck area and paralysed by the bullet.
After the official's visit, Ms. Euangfah said, no one from the NHRC ever contacted her. "It's so different to other rights agencies, who always visit us in groups," Ms. Euangfah complained.
She also contrasted the NHRC's attitude toward her father with the its enthusiasm in other cases related to anti-government protesters, such as the NHRC's recent announcement that they will investigate the claims that one of the alleged gunmen who participated in the gun battle which wounded her father had been tortured by the police.
"I feel slighted to know that the NHRC pays more attention to the perpetrators than the victims," Ms. Euangfah told our correspondent, adding that she wants the NHRC to assist her family and investigate the attack on her father in the same enthusiastic manner.
"Please defend human dignity equally, instead of doing it for the sake of any particular side," Ms. Euangfah said.