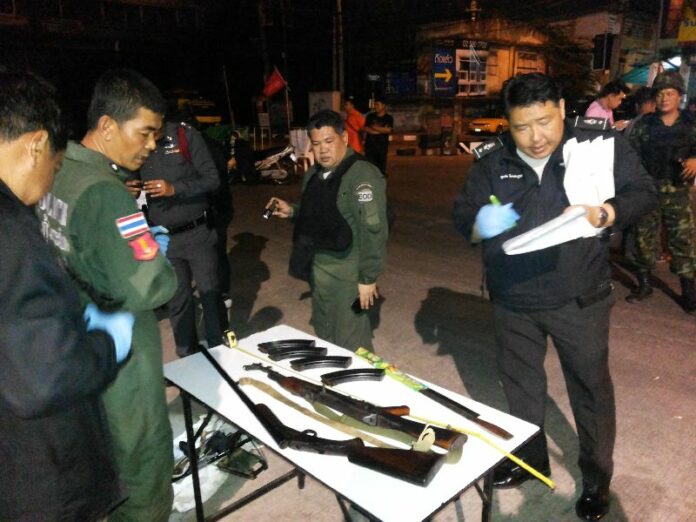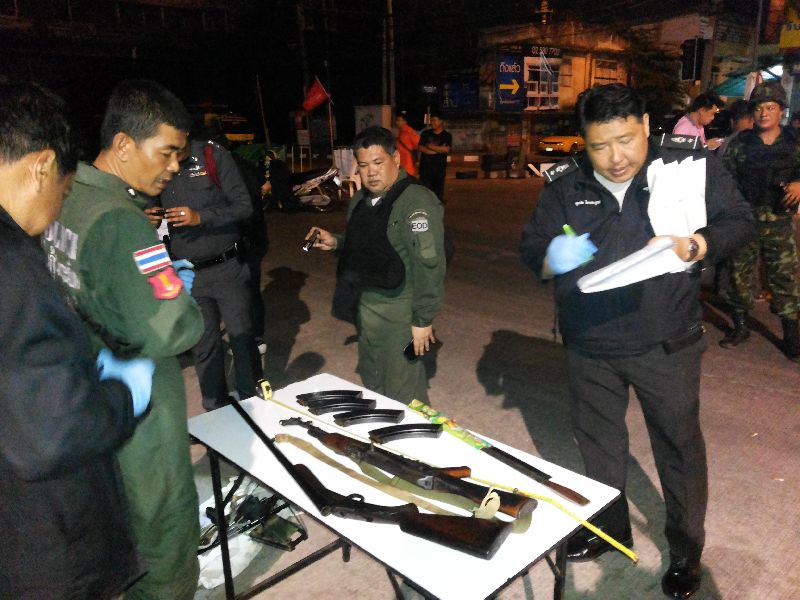 (28 March) The police say they have arrested a member of local Redshirts group in Nonthaburi province and confiscated a number of military-grade weapons possessed by the group.
The arrest followed an explosion at the office of the National Anti-Corruption Commission (NACC) on Sanambin Nam Road at around 23.30 last night. Upon inspecting the scene, police found damage to windows and walls of Building 1 inside the compound, but no injuries were reported.
The police suspect that the explosion was caused by an M79 grenade launcher fired by perpetrators who wished to intimidate NACC officials.
Hours later, the police raided a flyover bridge at Soi Nonthaburi 46, close to the NACC headquarters, where members of a local Redshirts group called People's Radio for Democracy (PRD) had been camping.
Upon spotting the police force, the activists promptly fled from the bridge into wooded area nearby, but the officers gave chase and managed to arrest one suspect, identified as Mr. Rattanapong Intararangsi.
Police said Mr. Rattanapong was carrying a bag which contained one AK-47 rifle, 4 fully loaded magazines, and two grenades. Mr. Rattanapong denied ownership of the weapons, claiming that an unknown individual placed the weapons with him shortly before the arrest.
When the police searched the car of another PRD activist which was parked close to the flyover bridge, the officers also found one shotgun and 38 shotgun rounds.
Furthermore, the search in the wooded area yielded one M79 grenade launcher with 6 rounds of ammunition, one handgun, three grenades, and 36 rounds of M-16 rifle.
A high-ranking police officer said the police have been investigating the recent grenade attacks on NACC compound and searching many areas for possible weapon cache. They eventually decided to raid the PRD camp on flyover bridge after "suspicious activities" were reported, the officer added.
Mr. Surapong Tovichakchaikul, Deputy Prime Minister and chief adviser to the Centre for Administration of Peace and Order (CAPO), said in a press conference today that the authorities will not provide any privileges to the Redshirts suspects, and insisted that the police will investigate any crimes committed by all political sides equally without prejudice.
He refused to comment on the link between the confiscated weapons and the PRD group, stating that he is waiting further details from the police.
"But whoever commits a crime must be punished," Mr. Surapong said, "No exceptions".