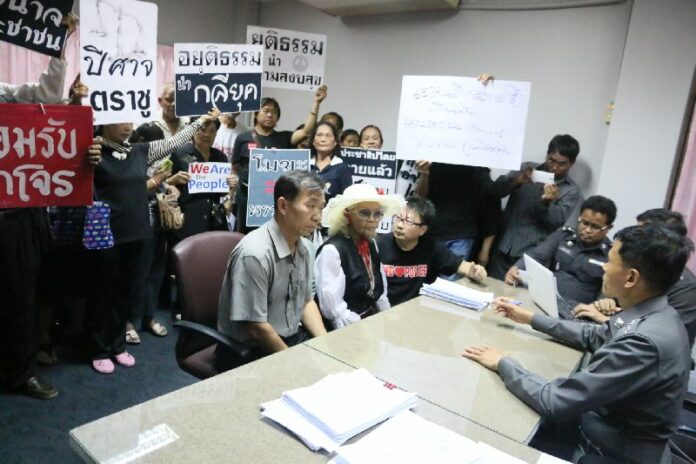 (1 April) Pro-government supporters in many provinces have simultaneously filed complaints against the Constitutional Court for invalidating the 2nd of February general election.
The court has deemed the poll unconstitutional since the election was not completed in a single day as required in the 2007 Constitution, but Redshirts activists have argued that the verdict is unfair, as it was anti-government protesters who blocked election venues in many districts, causing the election in those affected areas to be canceled.
The People's Committee for Absolute Democracy With the King As Head of State (PCAD) has denounced and boycotted the 2nd of February election as fraudulent, and insisted that "reforms" are needed before any election can be held.
Termed "The National Complaint Day", the campaign encouraged the Redshirts to file a charge of treason and attempt to overthrow sovereign power of the Legislative Branch under Article 113 of the Criminal Codes against the 6 majority Constitutional Court judges who ruled in the election verdict.
At Mueang Police Station in Nakhon Panom province, over 200 Redshirts gathered to file complaints to the police, led by Mr. Praong Boonpong, former Minister of Labour, and Ms. Monpon Charoensri, a former MP.
The demonstrators wore black to symbolise their disagreement with the court, and brought placards which read "How come 6 judges have more power than 20 million votes?" and "They robbed the people's rights".
After filing complaint with the police, Mr. Prasong told reporters that he finds it unacceptable that the government has spent over 3.8 billion baht organising the elections, many citizens have sacrificed their money and time to travel to their hometowns for voting, and candidates have dedicated their funds in the vote-canvassing campaign, only to have their efforts annulled by the Constitutional Court.
"The court rules without listening to the voices of more than 20 million people who went out to vote," Mr. Prasong fumed, "It's a grave crime against democracy".
Mr. Baworn Buppavet, a 77-year old Redshirt supporter at the rally, said the Constitutional Court should have listened more to the people, especially those who live in the countryside "areas the judges have always neglected".
Around 40 Redshirts also rallied in Bang Phlat district of Bangkok to urge the police to take legal action against the Constitutional Court.
In Chiang Mai province, "Love Chiang Mai 51" group has mobilised their supporters to file complaints at local police stations, and plan to hold candle-lit vigils in front of the police stations this evening to voice their support for democracy in Thailand.
The group will also hold religious ceremony on 3 April to give blessing to thousands of local Redshirts who would join mass rally called by the United Front of Democracy Against Dictatorship (UDD) on 5 April, one of its group leaders said.
Many Redshirts demonstrators in Ubon Ratchathani province also rallied in front of provincial police stations and lodged their complaint against the Constitutional Court judges.
For comments, or corrections to this article please contact: [email protected]
You can also find Khaosod English on Twitter and Facebook
http://twitter.com/KhaosodEnglish
http://www.facebook.com/KhaosodEnglish