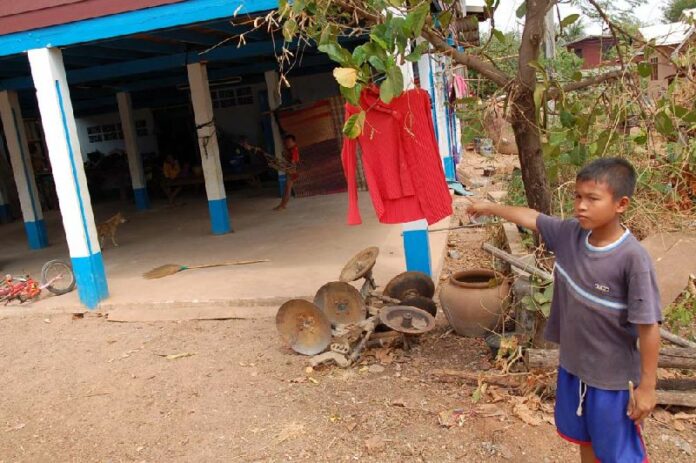 (1 April) Residents of Na Piang village in Sakon Nakhorn are convinced their community has been haunted by a curse ever since a local temple was demolished.
According to a number of villagers, 30 residents have passed away due to various causes since the old temple was demolished in March 2013. Local administrators claimed they meant to construct a new temple over its compound, but budget issues have delayed the construction so far.
Villagers claimed that 9 of those fatalities died in March alone, including Mr. Sakhorn Promchantha, a member of the Na Piang Subdistrict Executive Organisation, who passed away on 30th March.
A week earlier, villagers said, a monk had also committed suicide in a local temple.
Mr. Lorm Yawangphol, who identified himself as an experienced villager necromancer, told our correspondent that the residents were opposed to the demolition of the temple, and the religious sanctuary has been left unconstructed for over a year.
"The villagers are convinced they have been cursed because of the temple incident," Mr. Lorm explained.
According to Mr. Lorm, many local residents have conducted religious ceremonies in their homes to ward off the purported evil spirits, and an effort is underway to gather a communal fund in the village in order to hire experienced monks from other districts for an exorcism ceremony.
Some villagers also hung red clothes out in front of their homes in accordance with local beliefs that red shirts will deter any malevolent spirits.
For comments, or corrections to this article please contact: [email protected]
You can also find Khaosod English on Twitter and Facebook
http://twitter.com/KhaosodEnglish
http://www.facebook.com/KhaosodEnglish