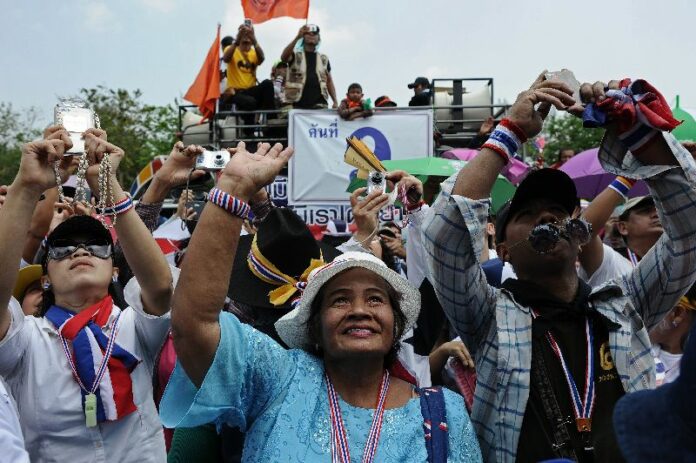 (6 April) Anti-government protest leader Suthep Thaugsuban has vowed to ask His Majesty the King to approve his effort to seize power from government of Prime Minister Yingluck Shinawatra.
Mr. Suthep delivered the comment yesterday at the People's Committee for Absolute Democracy With the King As Head of State (PCAD) rally stage in Bangkok's Lumpini Park.
At the rally, which was billed as a "big fight" against the government, Mr. Suthep outlined strategies for PCAD supporters in their campaign to remove Ms. Yingluck from her caretaker position, explaining that all PCAD local networks should gather lists of their members across the country and "wait for the day of battle".
"When I blow the whistle, all of these members must be present," Mr. Suthep told the crowd, "Bring out all the healthy people so we can embark on a prolonged fight, for at least 15 days".
Mr. Suthep said two events would be critical to the PCAD's ultimate fight against Ms. Yingluck: the conclusion of the corruption case conducted by the National Anti-Corruption Commission (NACC) on Ms. Yingluck, and the verdict by the Constitutional Court which would determine whether she violated the 2007 Constitution by removing a hostile official from the seat of National Security Council director.
If the NACC ruled that Ms. Yingluck ran afoul of corruption laws, Mr. Suthep said, the PCAD supporters should stay in their position and wait for his future orders; however, a guilty verdict by the Constitutional Court – which will automatically remove Ms Yingluck from her position – would be met by an instant mobilisation from Mr. Suthep's nationwide network.
"We will immediately march on that day!" Mr. Suthep, "We will occupy Thailand so the sovereign power shall truly belong to the people"
Mr. Suthep elaborated further that he would then install himself as the "Sovereign Body" who will wield absolute power via numerous "Revolutionary Decrees" and the adoption of a single charter provision as a legislative blank cheque – in the same manner of military dictators in 1960s, such as the notorious Field Marshal Sarit Thanarat.
"We will have something like Article 17 [of 1959 Administrative Charter] as the highest law," Mr. Suthep said, referring to the charter article which allowed Field Marshal Sarit to fight suspected Communist threats by all means, "[I] will be able to order anyone to be executed by firing squad, but I will only freeze assets".
He continued, "As a Sovereign Body who has seized power, I will have the power to appoint Prime Minister and Cabinet members at my own discretion. Then I will present this list to His Majesty the King, so that he can approve them as the People's Government".
Once His Majesty the King signed his approval for the "people's coup", Mr. Suthep said, he will proceed to appoint National Legislative Assembly and "People's Council" as two unelected legislative bodies to engage in "reforms" for Thailand.
He promises to return the power to the people once the "reforms" are completed, but warned that he would mobilise his supporters onto the streets if the government he had appointed "failed to perform its duties" as assigned by the PCAD.
Mr. Suthep's speech, which drew loud and long cheers from his supporters, is the first instance in which he clearly outlined the procedures to achieve his dubious goals of installing "People's Council" and "reforming Thailand"; Mr. Suthep and his core supporters have refused to elaborate on those terms in previous media appearances and interviews.
The remark also attracts concerns from a number of observers who fear that Mr. Suthep's plan would require His Majesty the King, who has remained largely silent on the current round of political crisis, to visibly take sides and even violate the national constitution in the process.
Furthermore, it is highly unlikely that millions of pro-government supporters in the north and northeast will quietly accept Mr. Suthep's effort to remove their elected government.
In a separate mass rally in Nakorn Pathom province yesterday, Redshirts leader Jatupon Prompan insisted that the Redshirts are willing to fight for Ms. Yingluck, and ominously warned that a "civil war" could break out of Ms. Yingluck is removed by undemocratic means.
Mr. Suthep might have already prepared for such a scenario, however. In his speech yesterday, he also urged his supporters to be ready for prolonged rally in Bangkok for over 2 weeks in order to "deter" any opponents who would march into Bangkok and challenge his status as the Sovereign Body.
For comments, or corrections to this article please contact: [email protected]
You can also find Khaosod English on Twitter and Facebook
http://twitter.com/KhaosodEnglish
http://www.facebook.com/KhaosodEnglish