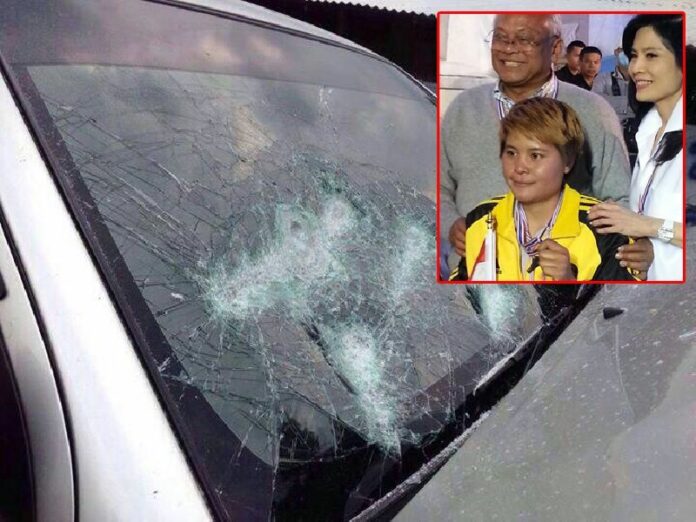 (4 April) Unidentified assailants have shot at the vehicle of an anti-government activist who heckled Prime Minister Yingluck Shinawatra on camera last December.
Ms. Patcharanan Leeluan told police in Phetchabun province that she has parked her car at a market in Wat Camp Son Temple, Khao Kho district, before 2 assailants arrived on a black pick-up truck at around 14.00 and used iron pipes to vandalise her car.
The suspects also fired a shot at the car before fleeing the scene on the pick-up truck. However, no injury was reported.
Ms. Patcharanan was widely praised by anti-government protesters after she managed to evade security cordon around Ms. Yingluck and blew whistle at her in protest during the Prime Minister's visit to Phetchabun on 25 December last year.
Ms. Yingluck responded by amiably offering to shake Ms. Patcharanan's hand for her effort, but the activist refused. For her "heroism", anti-government protest leader Suthep Thaugsuban presented her with a golden whistle at the rally on Ratchadamnoen Avenue in Bangkok.
Although police said it is too early to determine whether the attack on Ms. Patcharanan's car was politically motivated, other anti-government activists who had heckled former sister-in-law of Ms. Yingluck later experienced bomb attacks at their residence.
Related Story: Citing Fear For Her Family, PCAD Activist Quits Politics
For comments, or corrections to this article please contact: [email protected]
You can also find Khaosod English on Twitter and Facebook
http://twitter.com/KhaosodEnglish
http://www.facebook.com/KhaosodEnglish