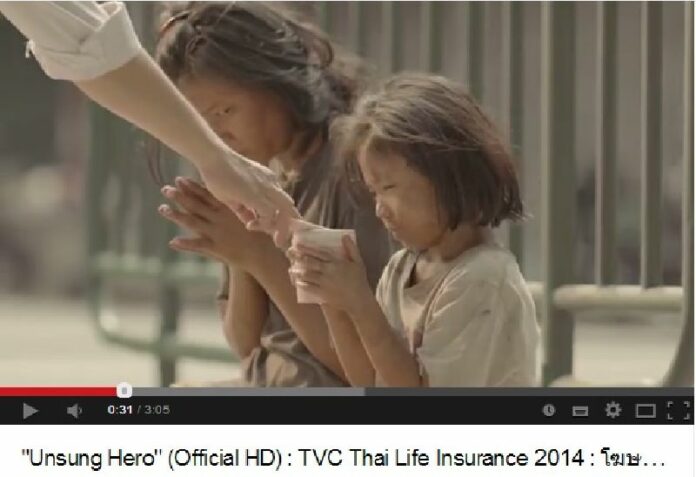 (4 April) Many Netizens call it heartwarming, but the TV commercial released by a prominent insurance company has been branded as supportive of human trafficking by a children welfare foundation.
The ad, which was titled "Unsung Hero", focused on a fictional character who performed acts of charity to people around him, including giving money to a young beggar.
The clip was posted on Youtube on 3 April on behalf of Thai Life Insurance Company, and has been shared widely on the social network, attracting praises from many online commentators.
However, the Mirror Foundation released a statement on its Facebook account today, criticising "Unsung Hero" for its contents which seemingly applaud the act of giving alms to beggars on the streets of Bangkok which the organisation says amounts to giving financial support to human trafficking rings.
According to studies conducted by the Mirror Foundation, beggars in Thailand are in fact a part of sophisticated human trafficking business, which is known to buy or rent children from poor families in neighbouring countries to stir a sense of compassion from passing pedestrians.
"These children lack the opportunity to receive education and to live normal lives like other children," the statement reads, "Furthermore, they must endure a risky environment. One day, when the children grow into adulthood and lose their pity-stirring appearance, some of them turn into brokers for human trafficking or other crimes".
"This is the real facts about child-beggars," the statement added.
The Mirror Foundation also disputes the rosy ending in the commercial, which shows the child beggar becoming a student, arguing that in reality the beggars themselves receive little or no money at all, since the donation gathered from pedestrians goes directly to the human traffickers.
"Giving money to child beggars amounts to supporting human trafficking, and it might also create even more child beggars," the Mirror Foundation said, adding that those who wish to help child beggars should instead contact the authorities so that the children could be rescued and placed in formal welfare facilities.
The statement concluded by expressing hope that Thai Life Insurance will revise the contents in the commercial, since it risks misleading the public into financially supporting child-beggar business and other related human trafficking activities.
Mirror Foundation's works are mostly focused on welfare of young children. Its operations include a centre to locate and track cases of missing children.
For comments, or corrections to this article please contact: [email protected]
You can also find Khaosod English on Twitter and Facebook
http://twitter.com/KhaosodEnglish
http://www.facebook.com/KhaosodEnglish