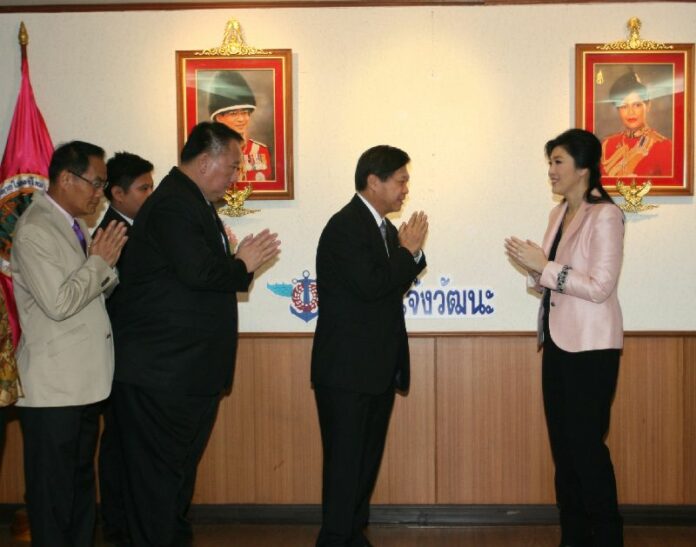 BANGKOK — The International Parliamentary Union (IPU) has expressed concern over the ongoing investigation against Prime Minister Yingluck Shinawatra, a Pheu Thai official said.
Ms. Jarupan Kuldilok, a former Pheu Thai MP, said in a press conference that the IPU's move followed Pheu Thai's complaint to the agency, requesting the IPU to respond to an inquiry by the National Anti-Corruption Commission (NACC) into Ms. Yingluck's controversial rice pledging scheme.
Pro-government supporters accuse the NACC of conspiring with anti-government movements and intending to suspend Ms. Yingluck from her caretaker position.
Ms. Jarupan said the Pheu Thai Party has also complained to the IPU about the NACC's effort to strip 308 MPs and Senators who voted in favour of the decision to amend the 2007 Constitution. The amendment was struck down as unconstitutional by the Constitutional Court, and the NACC has subsequently launched an inquiry into the 308 politicians, accusing them of participating in unconstitutional actions.
According to Ms. Jarupan, the IPU has responded to these complaints by sending a "warning notice" to the Thai authorities, reminding them that Thailand is obliged to respect the rule of law and civil rights under the International Covenant on Civil and Political Rights, though Ms. Jarupan did not specifically mention which agencies the statement was sent to.
"Various international organisations such as the IPU, the United Nations, and other foreign governments are monitoring the behaviour of a so-called independent agency who wields a power equivalent to the court like NACC," Ms. Jarupan said, adding that any Thai official found guilty of violating the ICCPR or any other rights-related international treaty might find themselves blacklisted by the global community.
Ms. Jarupan also stressed that although the IPU does not wield any real power over the Thai authorities, Thailand is obliged to comply to international treaties which guarantee the rule of law and fair trials.
Another former Pheu Thai MP, Ms. Phuwanida Khunpalin, explained that Pheu Thai's complaint to the IPU is a legitimate exercise of parliamentarians' rights to seek assistance from international bodies concerning the alleged injustice they have faced from the Thai legal system.
For comments, or corrections to this article please contact: [email protected]
You can also find Khaosod English on Twitter and Facebook
http://twitter.com/KhaosodEnglish
http://www.facebook.com/KhaosodEnglish