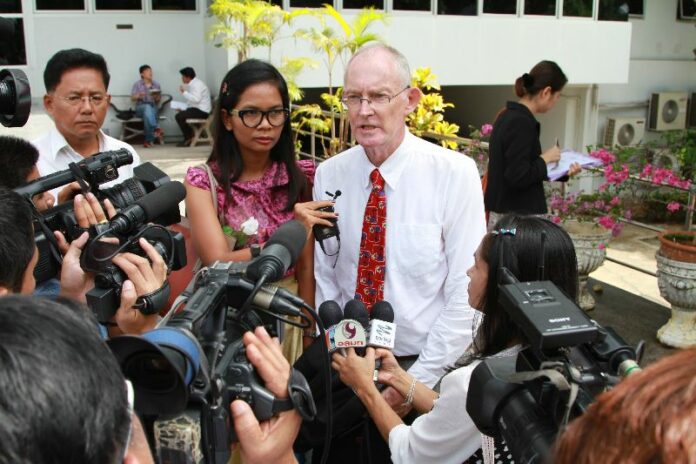 PHUKET — The two journalists charged with defaming the Royal Thai Navy in an online article were released on bail today after being detained in holding cells for five hours.
Alan Morison and Chutima Sidsathian, from the news website Phuketwan, were charged with defaming the Thai navy after publishing an article last July that included an excerpt from a Reuters report alleging the navy's involvement in the trafficking of Muslim Rohingya from Myanmar.
If found guilty, Morrison and Chutima could face up to two years in prison for the defamation charges, and five years for violating the Computer Crime Act.
Today Morison and Chutima appeared before the Phuket Criminal Court for the first time to hear their charges. They were later detained for five hours with other criminal suspects in the court's holding cells while officials processed their bail release.
Morison said he was detained with 90 other men — 21 of them with shackles around their ankles — while Chutima shared a cell with nine other women.
Morison also told Khaosod English that he sat next to Stein Havard Dokset, aka the "Body Bin Killer," who has been accused of murdering his girlfriend in Phuket province.
"We had an interesting conversation for several hours," Morison recalled.
Morison and Chutima were eventually released on bail after posting 100,000 baht each. The bond money was provided by a supporting group in Phuket, Morison said.
The court hearing comes several days after two Reuters reporters were awarded a Pulitzer Prize for their year-long coverage of the plight of the Rohingya, a Muslim minority in Myanmar that has been the victim of severe persecution and abuse, both at home and abroad.
Although the paragraph in question was originally written by Reuters journalists, only Morison and Chutima, who published the excerpt on the local news site Phuketwan, have been charged.
"The Royal Thai Navy has chosen to use these very iniquitous laws to prosecute a very small news outlet that happens to have covered the Rohingya issue consistently for many years," Morison told Khaosod English. "The more I think about it the more I think the objective is to shut down Phuketwan."
The lawsuit has been condemned by numerous human rights and press freedom groups, including Human Rights Watch and Reporters Without Borders.
"This is a tragedy to Thailand, a tragedy to the Royal Thai Navy, and a tragedy to Phuketwan," said Morrison. "But at least it highlights the issues of media freedom and the appalling treatment of the Rohingya."
Morison and Chutima are due to appear in court again on May 26.
(Reporting by Sally Mairs)
For comments, or corrections to this article please contact: [email protected]
You can also find Khaosod English on Twitter and Facebook
http://twitter.com/KhaosodEnglish
http://www.facebook.com/KhaosodEnglish