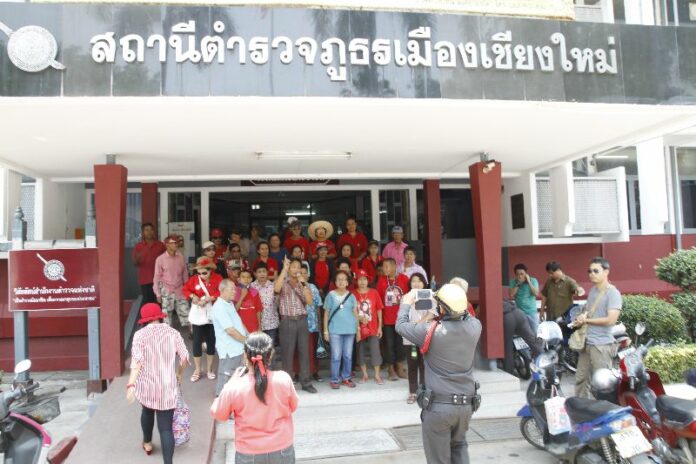 CHIANG MAI — Redshirts have pressed charges against anti-government protest leader Suthep Thaugsuban, accusing him of lese majeste for vowing to seek His Majesty the King's support for his campaign to oust the government.
Mr. Suthep announced earlier this month that he will install himself as a "Sovereign Body" and draft a list of Prime Minister and Cabinet members to submit to His Majesty the King for royal approval.
Dozens of Redshirt supporters in Chiang Mai province gathered at Mueang Police Station yesterday to press charges against Mr. Suthep under Article 112 of the Criminal Codes, which prohibits any remark deemed as defamation of the Royal Family.
The Redshirts also filed a charge under Article 113 of the Criminal Codes, accusing Mr. Suthep of inciting insurrection against the democratic regime with the King As Head of State.
The police have documented the charges, but it is not immediately clear whether authorities will take any legal action against Mr. Suthep.
Mr. Worawuth Rujiphanan, the leader of the group, said the Redshirts in Chiang Mai are resolutely opposed to Mr. Suthep's plan of replacing Prime Minister Yingluck Shinawatra with an appointed PM and an unelected "People's Council."
Mr. Worawuth, who operates a local Redshirt radio station, added that if there is a military coup or any attempt to remove Ms. Yingluck, his supporters will immediately surround the Chiang Mai City Hall in protest.
The Royal Thai Army has denied rumours of an imminent coup in April, stating that the allegation is completely groundless.
Nevertheless, sources inside the Chiang Mai police force claimed that the army has instructed its divisions in the north to collect addresses of all local Redshirt leaders for an unspecified purpose.
The sources also alleged that the army is stockpiling shields, batons, and other weapons in its northern barracks, but the troops have received no other instruction related to the matter.
For comments, or corrections to this article please contact: [email protected]
You can also find Khaosod English on Twitter and Facebook
http://twitter.com/KhaosodEnglish
http://www.facebook.com/KhaosodEnglish