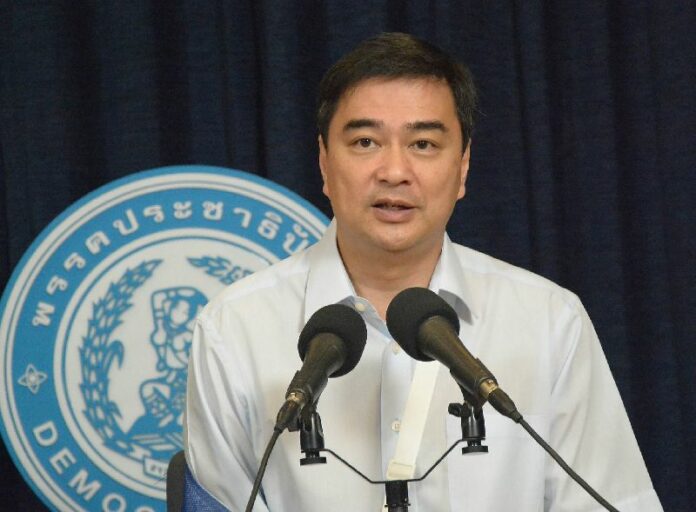 BANGKOK — The head of the Democrat Party has insisted that a new election is not a sufficient solution to Thailand's ongoing political crisis, contrary to the government's claims.
"At this moment many think … a smooth, problem-free election is an adequate solution," Abhisit Vejjajiva said at a press conference today. "But that is not the truth."
According to Mr. Abhisit, even if the government of Prime Minister Yingluck Shinawatra manages to organise a new round of polls—the previous general election on 2 February was invalidated by the Constitutional Court—the public may not accept the election results because of widespread mistrust towards the government.
Mr. Abhisit's comment came the day before a meeting is scheduled to take place between various parties and the Election Commission concerning a future general election. Tomorrow's meeting will be broadcast live on two government-owned television stations, channels 9 and 11.
The ruling Pheu Thai Party has urged the EC to conduct a new election as soon as possible, but Mr. Abhisit said this will "not answer the country's problems." The Democrat Party boycotted the previous 2 February election.
The head of the opposition party also warned that possible clashes between rival protest groups may lead to a military coup similar to the one that ousted former Prime Minister Thaksin Shinawatra in 2006.
"I want all sides to look at the events of 2006. The date of the election was already set, political parties already began vote canvassing, but it ended in a military coup," Mr. Abhisit told reporters.
He went on, "I hope the discussion on 22 April will not see fights between different parties. The talk should be a discussion about the needs of every side, how to help the country move forward, without violence and coups."
Mr. Abhisit refused to say whether his party will run in the next election, but insisted that the Democrat Party is open to opinions from all sides in tomorrow's forum.
Commenting on the reports that Mr. Thaksin is willing to "quit politics" for the sake of peace in Thailand, Mr. Abhisit said Mr. Thaksin is welcomed to stay in politics as long as he agrees to abide by the rule of laws and transparency.
For comments, or corrections to this article please contact: [email protected]
You can also find Khaosod English on Twitter and Facebook
http://twitter.com/KhaosodEnglish
http://www.facebook.com/KhaosodEnglish