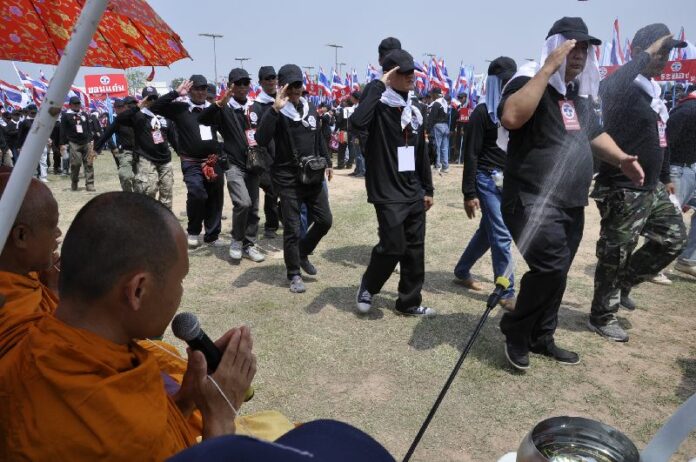 NAKHON RATCHASIMA — Thousands of black-clad "volunteers" of a newly formed pro-government network participated in a massive military-style parade in Nakhon Ratchasima province today.
The parade, part of two-day event organised by the National Volunteers for Defence of Democracy (NVDD), was held at "80th Birthday of His Majesty the King Sport Stadium"in Mueang district.
The NVDD was founded by several Redshirt leaders, including Suphon Attawong and Kwanchai Praipana, with the stated aim of defending democracy and opposing any attempts to oust Prime Minister Yingluck Shinawatra in an extra-legal way.
Mr. Suphon estimated that approximately 15,000 NVDD members attended today's parade. The cohorts were organised in 64 columns based on province, with Mr. Suphon standing as the master of ceremony in the middle of the stadium, receiving salutes from each passing column.
A group of monks also chanted blessings and sprayed holy water at the marchers as they passed.
Mr. Suphon said the two-day event was conducted to display the "power of the people" who are willing to fight for democracy and an elected government.
After the parade is over, all members will be dispersed back to their hometowns to wait for notice of further "missions," the NVDD chairman said. One mission is to monitor the Constitutional Court's ruling on Ms. Yingluck, which could result in her removal as caretaker PM.
"If the verdict was delivered without fairness and led to the overthrow of our democracy … or if a coup takes place, we will summon all NVDD members to Bangkok in order to express our support of democracy," Mr. Suphon said. "We are willing to lay down our lives in defence of an elected government."
A 62-year-old farmer from Nakhon Sawan provionce, who identified herself as Manit, said she decided to join the NVDD with her husband in part because her family has benefited from the government's rice-pledging scheme.
She also said she is deeply angered by the Constitutional Court's decision to invalidate the 2 February election, and that she is ready to fight for justice on Ms. Yingluck's behalf.
"If the NVDD calls for mobilisation, I will come out and fight immediately," Ms. Manit said.
Mr. Pichai, a 67-year-old retired public school teacher, said although he is from Songkhla province—a major stronghold of the anti-government movement—he joined the NVDD with a group of friends because he is opposed to the People's Committee for Absolute Democracy With the King As Head of State (PCAD) and its effort to "overthrow" the elected government.
"So we are rising up to fight for the right thing. I urge all sectors to swiftly organise a new election," said Mr. Pichai, who refused to give his surname.
For comments, or corrections to this article please contact: [email protected]
You can also find Khaosod English on Twitter and Facebook
http://twitter.com/KhaosodEnglish
http://www.facebook.com/KhaosodEnglish