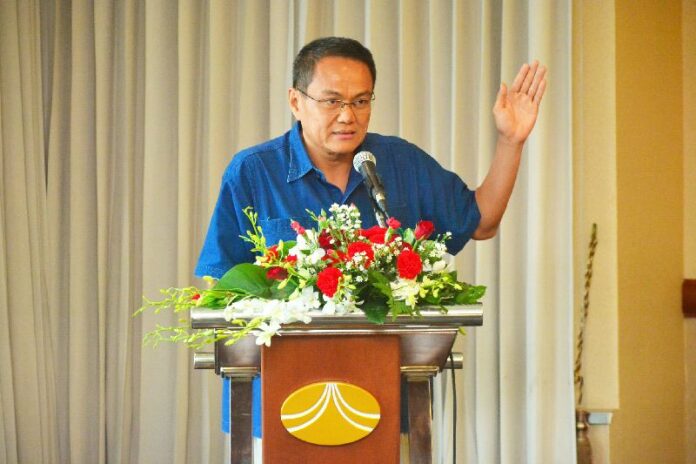 BANGKOK — A group of activists has founded a new political party to pursue a variety of progressive reforms they say have been neglected by the ruling Pheu Thai Party.
The platform of the "Commoner Party of Thailand" (CPT) includes promises to reform Thailand's draconian lese majeste (insult of monarchy) laws, decentralize the government through local elections of regional officials, amend the 2007 Constitution, and advance labour rights through the expansion of employees' collective bargaining power.
The CPT also advocates passing an amnesty bill that will dissolve legal cases against Redshirt demonstrators (excluding their leaders) in connection with the political unrest in 2010.
Party chairman Thanapon Siyakool announced the formation of the CPT in a press conference on Sunday at The Emerald Hotel in Bangkok.
"The motto of our party is Equality Across Thailand," Mr. Thanapon said.
He was joined at the press conference by a number of prominent academics who praised the CPT although they have yet to officially become party members.
Nidhi Eoseewong, a prominent former history professor from Chiang Mai University, told the audience he fully supports the CPT's vision for decentralisation, particularly the idea of replacing officials appointed by Bangkok bureaucrats with ones elected by local residents.
Although the disparity between urban and rural development decreased after the victory of former Prime Minister Thaksin Shinawatra's populist Thai Rak Thai Party, the problem nevertheless persists, said Mr. Nidhi, and successive governments allied to Mr. Thaksin have failed to genuinely solve the issue.
"No political party has ever succeeded. But today's society has changed a lot. Who knows, the Commoner Party may succeed in this task," Mr. Nidhi said.
His comment was echoed by Prapat Pintobtang, a lecturer on local politics from Chulalongkorn University, who said the Commoner Party is a much-needed choice for the poor and those who wish to advance reforms through legislation.
"All these years we have lacked a political party that campaigns alongside the popular sector," Mr. Prapat said.
Suthachai Yimprasert, who teaches political history at Chulalongkorn University, said Thailand's democracy is currently being challenged by the "undemocratic" demands put forth by anti-government protesters, led by the People's Committee for Absolute Democracy With the King As Head of State (PCAD).
"They call it reforms, but what they offer is not reforms. Things like unelected parliament and appointed Prime Minister, these are not democratic," Mr. Suthachai said. "The real reforms should advance human rights and strengthen the people's voices."
Although party chairman Mr. Thanapon said the CPT is intended to be an alternative for voters disappointed by Pheu Thai's shortcomings, Pheu Thai spokesman Prompong Nopparit nevertheless attended the press conference and presented Mr. Thanapon with a flower bouquet to show his courteous support.
The CPT was officially listed by the Election Commission (EC) on 5 March, and it can legally run in the next election called by the EC.
Mr. Thanapon is currently serving as chairman of Kasetsat University's Society of Political Science. He has campaigned with various NGO groups for economic and social reforms, and is a longtime friend of Mr. Somyot Prueksakasemsuk, a labour activist who is serving a prison termfor lese majeste.
Mr. Thanapon was also once a close friend to Somsak Thepsuthin, a leading member of the Bhumjai Thai Party, but their friendship is thought to have cooled after the Bhumjai Thai Party remained allied with the Democrat Party during the military crackdown on Redshirt protesters in 2010.
For comments, or corrections to this article please contact: [email protected]
You can also find Khaosod English on Twitter and Facebook
http://twitter.com/KhaosodEnglish
http://www.facebook.com/KhaosodEnglish