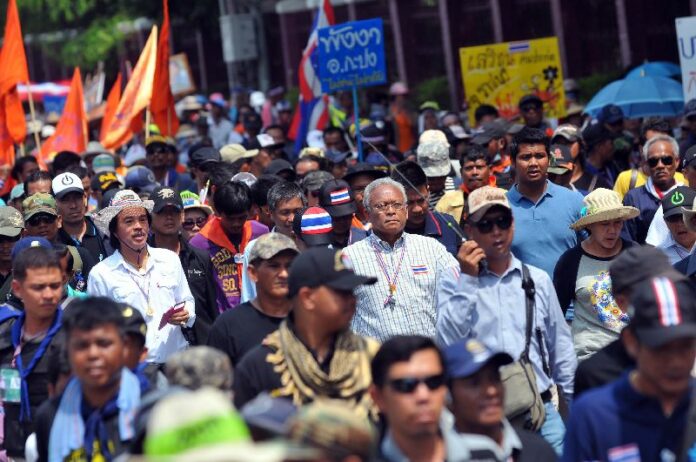 BANGKOK — The alleged shooting and beating of an army colonel by anti-government protest guards has been condemned in mysterious leaflets currently being circulated around the armed force headquarters.
Col. Witthawat Wattanakul, a staff officer of the Royal Thai Armed Force Headquarters, was allegedly attacked in northern Bangkok early morning on 25 April.
Pol.Col. Thanawat Wattanakul, a commander at Chokechai Police Station and the elder brother of Col. Witthawat, said the army officer was driving home on 24 April when he encountered traffic cones blocking Chaeng Wattana Road near a campsite maintained by the anti-government protest group, the People's Committee for Absolute Democracy With the King As Head of State (PCAD).
Col. Witthawat reportedly got out of his car and began to remove the traffic cones. A group of PCAD guards then opened fire on the officer and rushed forward to beat him violently, despite Col. Witthawat's pleas for mercy, said Pol.Col. Thanawat.
Pol.Col. Thanawat claimed that the guards only stopped assaulting Col. Witthawat after they found his military ID card while searching his car.
Medical workers at Mongkutwattana Hospital said Col. Witthawat was admitted to the emergency room in a severe condition, with bloody bruises all over his body and small gunshot wounds on his feet. Since then his condition has gradually improved, hospital workers said.
Col. Witthawat was later moved to Mongkut Klao Hospital, the officials added.
Pol.Col. Thanawat said his brother remembers the faces of the perpetrators and intends to press charges against them.
The incident appears to have caused outrage among a number of military personnel. Shortly after news of the alleged attack surfaced, mysterious leaflets condemning the incident began circulating around the Royal Thai Armed Force Headquarters, our correspondent says.
The leaflets harshly criticise high-ranking army officers for their perceived failure to protect army personnel from the brutal "thuggery" of the PCAD guards. The fliers also urge army commanders to "restore the dignity" of the Royal Thai Army by taking concrete actions against the anti-government militants.
It is not clear who is responsible for the publication of the documents.
A spokesperson of the Royal Thai Police said the police will increase patrols around Chaeng Wattana Road to prevent further cases of violence.
Correction: The original version of this article incorrectly implied that the leaflets were distributed around the Royal Thai Army headquarters, whereas the documents in fact appeared at the Royal Thai Armed Force Headquarters. We apologise for any confusion the error may have caused.
For comments, or corrections to this article please contact: [email protected]
You can also find Khaosod English on Twitter and Facebook
http://twitter.com/KhaosodEnglish
http://www.facebook.com/KhaosodEnglish