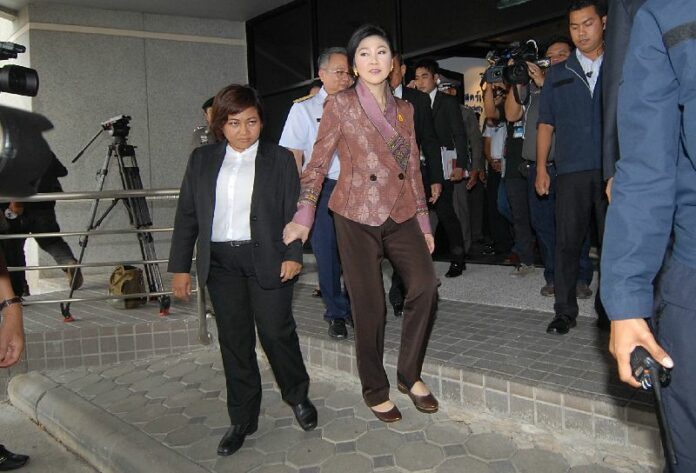 BANGKOK — The head of the National Security Council has insisted that it is necessary to extend the Internal Security Act (ISA) for another 61 days in order to prevent clashes between rival protest groups.
Pro-government Redshirts have scheduled their next mass rally on 6 May, while the anti-government People's Committee for Absolute Democracy With the King As Head of State (PCAD) has also promised "one last struggle" against Prime Minister Yingluck Shinawatra in the coming weeks.
"I have to admit I am concerned by these assemblies," said National Security Council Chief Lt.Gen. Paradorn Pattanatabutr at a science museum in Pathumthani province where today's cabinet meeting was held.
"[We] have to monitor the situation closely. At this point, there are many potential perpetrators. Third-hand parties have infiltrated the demonstrators. The violence is also spreading further."
He added, "I will stress to the authorities that their priority should be to separate the two large protest groups in order to avoid confrontation."
Nevertheless, Lt.Gen. Paradorn insisted that the government can contain the situation, and there is no need to re-impose a state of emergency over Bangkok in the foreseeable future.
"I believe the ISA can contain the situation. We don't need to use special laws," Lt.Gen. Paradorn said.
The extension of the ISA will last for 61 days, until the end of June. In theory, the ISA grants law enforcement authorities increased power to respond to protesters, including the authority to bar demonstrators from entering particular roads or buildings, detain suspects without charges, and censor the media.
Deputy Prime Minister Surapong Tovichakchaikul said he will advise Ms. Yingluck to decrease the number of army troops deployed to oversee the streets of Bangkok.
Mr. Surapong said a lighter presence of troops will help avoid attacks on military personnel, such as the alleged shooting and beating of an army colonel that occured at the hands of PCAD guards last week.
Mr. Surapong said he expects the number of soldiers currently deployed throughout Bangkok to drop from 10,000 to as low as 3,000.
For comments, or corrections to this article please contact: [email protected]
You can also find Khaosod English on Twitter and Facebook
http://twitter.com/KhaosodEnglish
http://www.facebook.com/KhaosodEnglish