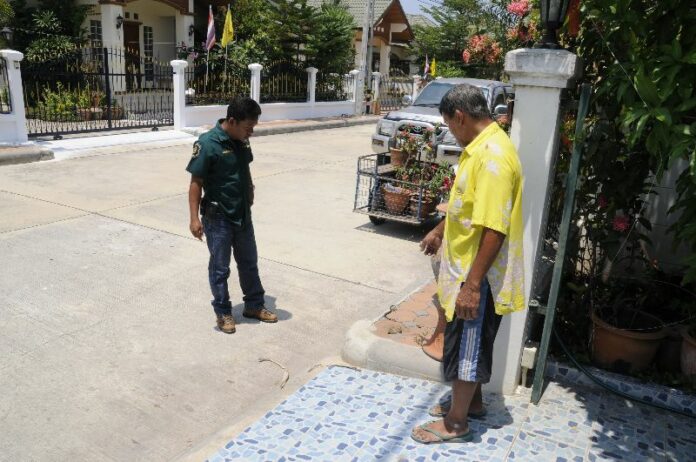 SUPHANBURI — A gated community in Suphanburi province suffering from an infestation of cobra snakes has been advised by a necromancer to appease the "angry snake goddess" by building her a shrine.
Somchai Chotiyanon, 41, of Jaranai 2 Village, made headlines in Thai media when hordes of venomous snakes began invading his home last week. Mr. Somchai said that on an average day, his family has encountered 5-6 snakes in their home. In total, he has counted at least 30 snake intruders so far.
Mr. Somchai said he is not sure where the snakes are coming from, or why they are so intent on intruding his property.
The snakes have also invaded the homes of some of Mr. Somchai's neighbours, killing several guard dogs in the process.
At first Mr. Somchai tried to trap and kill the snakes, but after a poisonous snake bite sent him to the hospital, he decided to seek help from authorities instead.
In response to Mr. Somchai's call for help, Suphanburi local authorities dispatched workers to clear a nearby wooded area suspected to be the snakes' lair and seal all of the drainages in the community.
Chantima Phoprae, a self-styled necromancer who claimed she could communicate with a "snake goddess," also arrived to help advise Mr. Somchai on how to stem the invasion of snakes into his home.
Ms. Chantima told Mr. Somchai that the snakes were likely a manifestation of an enraged snake goddess who is seeking "revenge" on his family for the crimes humans have committed against snakes. The necromancer suggested that Mr. Somchai build a shrine dedicated to the snake goddess in his home and surround his property with smaller statues of snakes to symbolise the children of the sacred goddess. Ms. Chantima said a religious ceremony is also needed to appease the snakes' anger, and to pass good merits to their spirits in the afterworld.
"Whether you will do it is entirely up to you," Ms. Chantima said. "But if you do, I can assure you that your family will be happy."
Mr. Somcha's 16-year-old daughter Chantima Chotiyanon said her father has decided to conduct the religious service dedicated to the snakes' spirits.
"So we can have peace of mind," Ms. Chantima said.
However, Somphot Weerakul, an snake expert and assistant professor at Khon Kaen University, told Daily News that the incident is unlikely to be caused by anything supernatural.
Mr. Somphot was quoted as saying that he believes the snakes were simply moving to a cooler location in response to the warm weather.
Some of the female snakes Mr. Somchai killed may have also left traces of their blood in his home, which could have attracted more male snakes in the area, Mr. Somphot added.
For comments, or corrections to this article please contact: [email protected]
You can also find Khaosod English on Twitter and Facebook
http://twitter.com/KhaosodEnglish
http://www.facebook.com/KhaosodEnglish