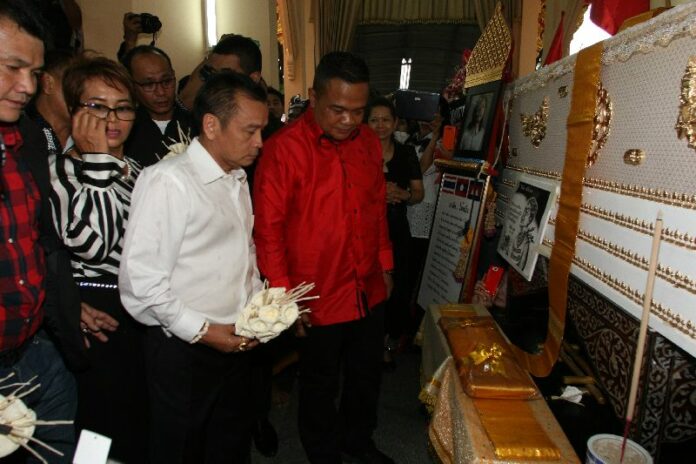 BANGKOK — Hundreds of Redshirt supporters packed the grounds of Wat Samien Naree Temple today to bid their final farewell to the pro-government poet and activist who was murdered last week.
Kamol Duangphasuk, 45, was shot dead by a pair of masked assassins on 23 April while he was starting his car in a restaurant parking lot in Bangkok.
Mr. Kamol, commonly known by his pen name Mai Nueng Gor Gunthee, was a longtime activist who was critical of the country's lese majeste (insult of monarchy) laws. In the final years of his life, Mr. Kamol became closely aligned with the pro-government Redshirt movement.
Today's cremation ceremony for Mr. Kamol was chaired by Jatupon Prompan, the chairperson of the Redshirt umbrella group the United Front of Democracy Against Dictatorship (UDD). Over 5,000 Redshirts also attended the ceremony.
Although police have not determined a clear motive behind Mr. Kamol's murder, many Redshirt activists who knew him privately have speculated that the activist was targeted in revenge for his alleged involvement with violent attacks on anti-government protesters in recent months.
The purported link between Mr. Kamol and the political violence that has beleaguered Bangkok since last November was corroborated by a letter reportedly hand-written by Wuttipong Kochthammakul, a "hardcore" Redshirt activist who has gone in hiding since he was charged with lese majeste several weeks ago.
The purported letter was published on the Facebook account of one of Mr. Wuttipong's close friends. In the letter, Mr. Wuttipong, aka "Ko Tee," expressed shock over Mr. Kamol's death, and claimed to be currently living in exile in Cambodia.
Mr. Wuttipong wrote that he greatly missed the time when he and Mr. Kamol participated in "secret works," most of which were successful, the letter says.
"Please rest in peace," Mr. Wuttipong wrote in the letter. "The guerilla unit we have organised, both overground and underground, along with our idea-ideology-method of struggle, is still there."
The fugitive activist also saluted Mr. Kamol for being the "brain" of the "people's struggle" movements.
He added, "Ten are killed, but hundreds of thousands more will be born. This is what we say, and it will be true. The Hundred Bundled Red Bamboos Campaign will continue in its resolve to unite [the masses] into a great log that shall break apart the wall of aristocracy."
It is unclear what "The Hundred Bundled Red Bamboos Campaign" refers to.
Mr. Wuttipong has not been seen in public since royalist activists filed lese majeste charges against him for negative comments he made about His Majesty the King in an interview with Vice News.
For comments, or corrections to this article please contact: [email protected]
You can also find Khaosod English on Twitter and Facebook
http://twitter.com/KhaosodEnglish
http://www.facebook.com/KhaosodEnglish