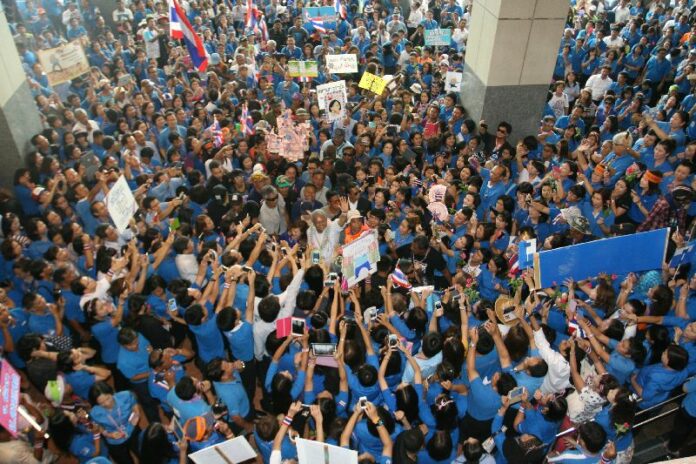 BANGKOK — Deputy Prime Minister Surapong Tovichakchaikul has downplayed what anti-government protesters are calling their "last fight," insisting that their new move is only a response to waning numbers.
Media reports in the past few days suggest that the People's Committee for Absolute Democracy With the King As Head of State (PCAD) may leave their rally site in central Bangkok's Lumpini Park and move back to their original protest site on Ratchadamnoen Avenue in the city's historic quarters.
PCAD secretary general Suthep Thaugsuban has also been promising "one last fight" against Prime Minister Yingluck Shinawatra, leading to speculation that the possible decision to relocate the protests is part of a plan to escalate his anti-government campaign.
But Deputy PM Surapong said the PCAD's possible move is merely a tactic to compensate for the group's dwindling number of protesters in Lumpini Park.
"It's easy to cause traffic jams around Democracy Monument, so they can create the image that a lot of protesters have joined them," said Mr. Surapong in a press conference today. "Lumpini Park is a closed area, so they can't show photographs of how many protesters were there."
"We have analysed that they have fewer and fewer protesters each day," added Mr. Surapong, who is also a chief adviser to the Centre for Administration of Peace and Order (CAPO).
Nevertheless, Mr. Surapong insisted that authorities will provide security to the PCAD protesters and prevent any acts of violence against them.
The Deputy PM also promised that there will be no crackdown on the anti-government protesters, as Ms. Yingluck has stressed to her officials that the government prefers the method of negotiation and would like to avoid any violent confrontations with demonstrators.
"It won't be like the 2010 unrest," Mr. Surapong said.
Although Mr. Suthep has not officially announced his decision to move the rally site, many vendors have already staked out grounds for setting up their stalls along Ratchadamnoen Avenue in anticipation of the PCAD protesters' relocation.
Prathep Thongsuk, a vendor who sells juice and grilled pork on the Avenue, said she heard the news about the PCAD's possible move "several days ago."
She believes the protesters will arrive on Ratchadamnoen Avenue by 1 May.
For comments, or corrections to this article please contact: [email protected]
You can also find Khaosod English on Twitter and Facebook
http://twitter.com/KhaosodEnglish
http://www.facebook.com/KhaosodEnglish