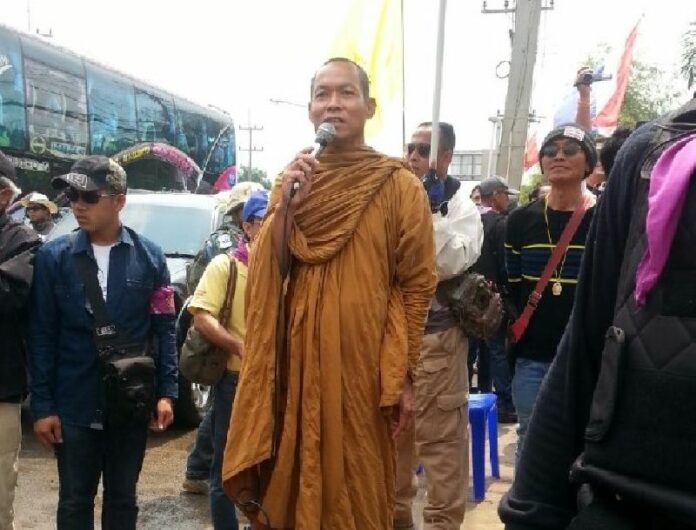 BANGKOK — A prominent Redshirt activist has denounced anti-government protesters' call for His Majesty the King to directly intervene in Thailand's ongoing political crisis.
Buddhist monk and anti-government activist Buddha Issara announced yesterday (1 May) that he would lead a demonstration to Hua Hin district of Prachuab Kiri Khan province, where the His Majesty's summer palace is located, on 16 May in a bid to "return the royal power" to the king.
Buddha Issara, who serves as a co-leader of the People's Committee for Absolute Democracy With the King As Head of State (PCAD), argued that the 2007 Constitution permits His Majesty the King to replace Prime Minister Yingluck Shinawatra with a new leader of his own royal discretion.
According to the monk, the public can choose to "return" sovereign power to the king in accordance with Article 3 of the Constitution, which would grant him a legal basis for appointing his own Prime Minister.
Numerous legal experts and scholars have rejected this interpretation in the past, noting that Article 3 of the 2007 Constitution clearly states that His Majesty the King can only exercise sovereign power through the three branches of administrative, legislative, and judicial powers as a symbolic Head of State.
But Buddha Issara appears to be confident that his three-day rally in Hua Hin district from 16-18 May will be successful.
"If Suthep and other PCAD leaders cannot close the game [against Ms. Yingluck]," Buddha Issara said, referring to PCAD sec-gen Suthep Thaugsuban, "They should turn to Article 3 and join the demonstration with us."
"I believe this method will not embarrass the leaders or the demonstrators," the monk said.
Weng Tojirakarn, a core leader of the United Front of Democracy Against Dictatorship (UDD), denounced Buddha Issara's plan for the march to Hua Hin in a press conference today, calling the move highly inappropriate.
According to Mr. Weng, the plan to "return the royal power" is simply a euphemism for forcing His Majesty the King to take sides in the conflict.
"The monarchy should remain above politics," Mr. Weng insisted.
The UDD leader also said that Buddha Issara's demands are essentially equivalent to an attempt to restore the system of Absolute Monarchy, in which the king can exercise executive power and appoint Prime Ministers at his own discretion.
"I want to ask Buddha Issara and his supporters whether they are in fact campaigning to restore the Absolute Monarchy," Mr. Weng said in the press conference.
His Majesty the King, who is recovering from his illness at Klai Kang Won Palace in Hua Hin district, has been silent on the anti-government protesters' call for a direct royal intervention into the current conflict.
For comments, or corrections to this article please contact: [email protected]
You can also find Khaosod English on Twitter and Facebook
http://twitter.com/KhaosodEnglish
http://www.facebook.com/KhaosodEnglish