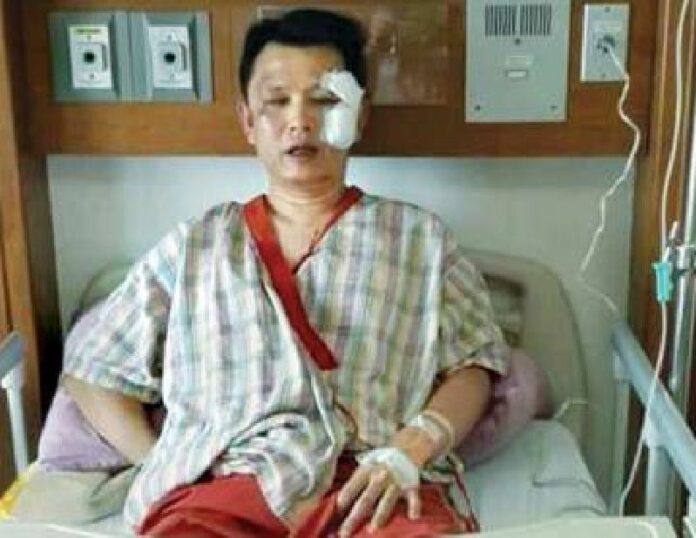 BANGKOK – The family of an army colonel allegedly assaulted by anti-government militants has rejected the compensation money offered by the protesters
Col. Witthawat Wattanakul, a staff officer at the Royal Thai Armed Force Headquarters, was allegedly attacked in northern Bangkok on 25 April after he attempted to remove traffic cones set up by protesters near their rally site on Chaeng Wattana Road.
When Col. Witthawat got out of his vehicle and attempted to remove the cones, a group of anti-government guards reportedly brutally attacked him. One of the guards also fired a handgun at Col. Witthawat's feet, injuring him with bullet fragments, according to media reports.
Shortly after news of the incident surfaced, Buddhist monk and prominent anti-government protest leader Buddha Issara admitted that a group of overzealous guards attacked Col. Witthawat "due to misunderstanding."
Buddha Issara, who is a core leader of the People's Committee for Absolute Democracy With the King As Head of State (PCAD), recently arranged a ceremony with a group of high-ranking army officers to ask for forgiveness over the incident and offer 50,000 baht to help pay for Col. Witthawat's medical costs.
However, Col. Witthawat's family has not accepted the money and says they intend to pursue legal action against the PCAD guards, according to Pol.Col. Thanawat Wattanakul, a commander at Chokechai Police Station and the elder brother of Col. Witthawat.
The money will be returned to Buddha Issara by the army staff, Pol.Col. Thanawat said.
Pol.Col. Thanawat added that his family will organise a press conference in order to present CCTV footage of the attack to the press this Sunday.
Read More: Mysterious Military Leaflets Denounce PCAD Guards' 'Thuggery'
For comments, or corrections to this article please contact: [email protected]
You can also find Khaosod English on Twitter and Facebook
http://twitter.com/KhaosodEnglish
http://www.facebook.com/KhaosodEnglish