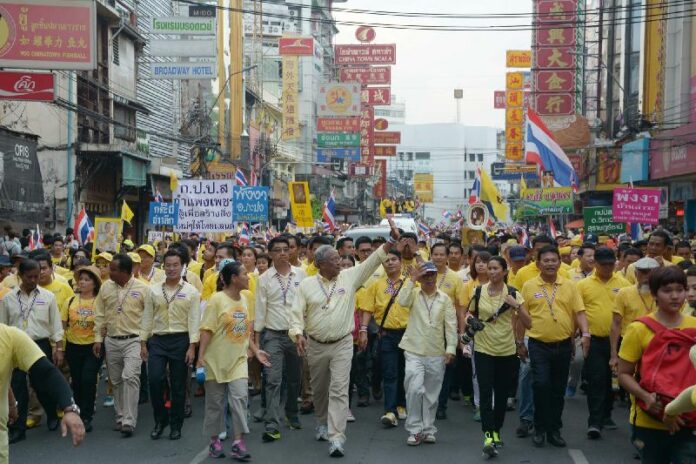 BANGKOK — Thousands of army and police personnel will be deployed to oversee the mass rallies called by pro- and anti-government activists over the weekend, a top police commander said.
Pol.Gen. Worapong Chiewpreecha, deputy commander of the Royal Thai Police, told reporters today that the security operation will involve more than 100 companies of army troops and police officers, amounting to at least 15,000 security personnel.
The anti-government People's Committee for Absolute Democracy with the King As Head of State (PCAD) has promised a mass rally – referred to as "One Last Fight" by their leaders – in central Bangkok on 9 May. Meanwhile, the pro-government United Front of Democracy Against Dictatorship (UDD) is organising a demonstration of its own on Aksa Avenue in Bangkok's western suburb on 10 May.
The rallies will be the first held since ex-Prime Minister Yingluck Shinawatra was ousted by the Constitutional Court yesterday for unlawfully transferring a National Security Council chief in 2011.
Although the rival protest groups have clashed in the past, core activists from both the PCAD and UDD have vowed to avoid a confrontation this weekend.
Pol.Gen. Worapong said the authorities will remain vigilant throughout the demonstrations to ensure no clashes take place.
He also said that concerns over a possible confrontation might lead to a "reconsideration" of the government's recent request to decrease the number of troops deployed in Bangkok.
Pol.Gen. Worapong said he has not received any reports about arms being smuggled into Bangkok by protesters.
"I'd like to thank the leaders of both sides for declaring that they will not tolerate armed elements in their ranks, and that they will expel such persons from their rallies immediately," Pol.Gen. Worapong said.
For comments, or corrections to this article please contact: [email protected]
You can also find Khaosod English on Twitter and Facebook
http://twitter.com/KhaosodEnglish
http://www.facebook.com/KhaosodEnglish