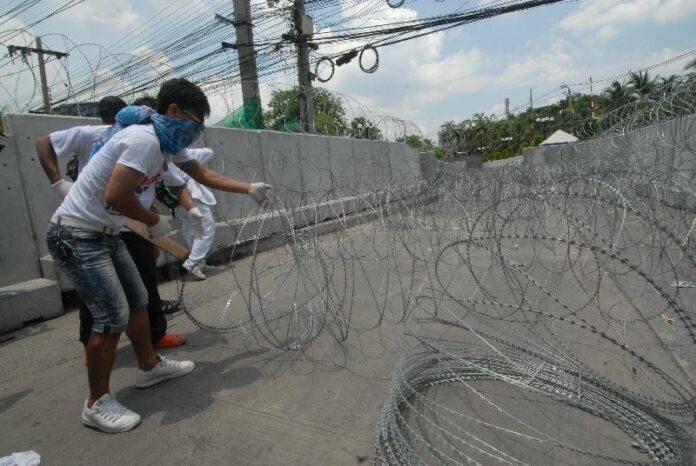 BANGKOK — A Buddhist monk and core anti-government leader has filed attempted murder charges against the police that used tear gas on him and his group of demonstrators today.
It was the first instance of violence during today's large-scale anti-government demonstrations, referred to as the "Final Battle" by leaders of the People's Committee for Absolute Democracy With the King As Head of State (PCAD). The massive rally is part of the group's ongoing effort to replace the current caretaker government, now led by Prime Minister Niwatthamrong Boonsongphaisarn, with an unelected PM and "People's Council."
Protesters led by the core PCAD activist and Buddhist monk Buddha Issara clashed with police this morning after attempting to enter the headquarters of the Centre for Administration of Peace and Ordre (CAPO) on Viphavadee Road.
Buddha Issara led protesters to CAPO's headquarters with the intention of negotiating with a high-ranking government representative. When his request for a dialogue was ignored, the monk attempted to enter the building despite police orders that he stop "trespassing."
When Buddha Issara refused to stop, police fired tear gas and high-pressured water at the monk and his entourage.
PCAD protesters hurled water bottles and screamed insults at the police in response, but eventually retreated.
After the clash subsided, Buddha Issara went to Thoong Song Hong police station to file charges of "attempted murder" against the officers who unleashed tear gas on his group.
Meanwhile, in a statement read this afternoon, CAPO announced a decision to charge 51 PCAD leaders with serious offences including terrorism, insurrection, illegal assembly, causing public disorder, and obstruction of the 2 Feb. elections.
This morning's confrontation at CAPO also brought traffic on Viphavadee Road to a halt, with PCAD guards blocking several lanes of the road near the CAPO headquarters.
According to a statement by the Traffic Police Command, traffic on Viphavadee Road and the elevated toll way above the road were completely "paralysed" by the clashes.
Those who wish to travel to Don Mueang Airport have been advised to avoid Viphavadee Road use Phahon yothin Road instead.
On Friday, other groups of PCAD protesters marched through Bangkok's financial district and demonstrated in front of a number of state-owned TV stations and government buildings, including the Government House and Parliament.
For comments, or corrections to this article please contact: [email protected]
You can also find Khaosod English on Twitter and Facebook
http://twitter.com/KhaosodEnglish
http://www.facebook.com/KhaosodEnglish