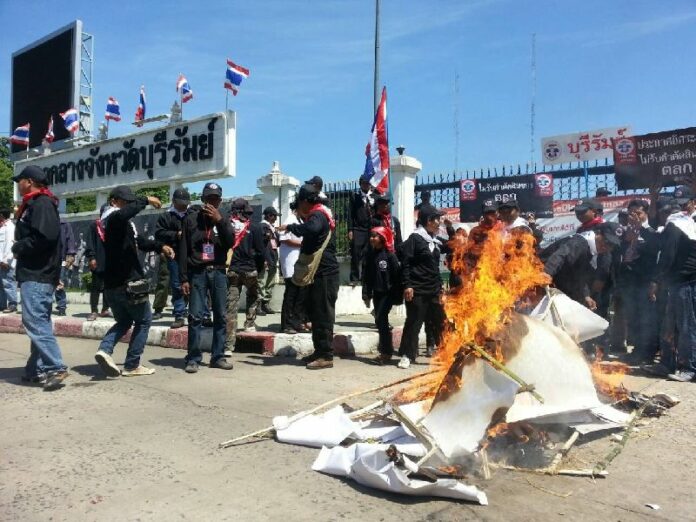 BANGKOK — Pro-government Redshirts across the country have staged symbolic protests against the court verdict that ousted former Prime Minister Yingluck Shinawatra on Wednesday.
The Constitutional Court found Ms. Yingluck and nine Cabinet members guilty of unlawfully removing a National Security Council chief in 2011, and forced them to vacate their caretaker positions.
The verdict has enraged many pro-government supporters, who have long accused the judicial branch of collaborating with anti-government factions in their attempt to topple the elected government.
To express their anger, hundreds of Redshirt supporters across Thailand staged coffin-burning ceremonies, organised by the newly-formed National Volunteers for Defence of Democracy (NVDD) in Thailand's north and northeast, and by the People's Radio for Democracy (PRD) in Bangkok.
The Redshirts' symbolic cremation demonstrations coincided with anti-government protesters "Final Battle" against the caretaker government, organised by the People's Committee for Absolute Democracy With the King As Head of State (PCAD).
The coffins, meant to be those of the Constitutional Court judges, were burned in order to put a curse on the judges' lives, following a Thai folk tradition.
The ceremonies were largely peaceful, though two confrontations with PCAD protesters were only narrowly avoided.
In Nakhon Ratchasima province, a procession of NVDD activists carrying a mock coffin came close to where anti-government protesters were gathering in support of the PCAD's mass demonstration in Bangkok today.
Similarly in Bang Na district of Bangkok, a group of anti-government protesters marched close to where Redshirts' had held a coffin burning ceremony earlier in the afternoon, but the two sides did not encounter each other.
The Redshirts' umbrella organisation, the United Front of Democracy Against Dictatorship (UDD), has scheduled a massive rally for tomorrow on Aksa Avenue in Bangkok's western suburb to demonstrate support for the elected government and denounce any attempt to "destroy democracy."
For comments, or corrections to this article please contact: [email protected]
You can also find Khaosod English on Twitter and Facebook
http://twitter.com/KhaosodEnglish
http://www.facebook.com/KhaosodEnglish