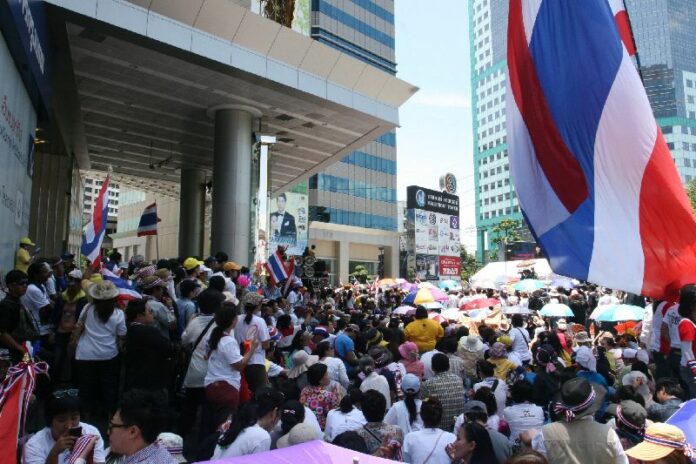 BANGKOK — A senior adviser to the Human Rights Watch has criticised anti-government protesters for intimidating several state-owned media outlets in Bangkok today.
Supporters of the People's Committee for Absolute Democracy With the King As Head of State (PCAD) rallied in front of the headquarters of Channel 3, 5, 7, 9, and 11 on Friday to demand the stations cease broadcasting "pro-government" news,including any statements released by the government. PCAD leader Suthep Thaugsuban said the demonstrations are needed to put an end to the "pro-government propaganda" reported by these "mouthpieces" of the state.
But Human Rights Watch adviser Sunai Phasuk said the demonstrators are blatantly intimidating the TV stations and attempting to censor them.
"It's fortunate that the demonstrators have not entered the building yet," Mr. Sunai told Khaosod. "But I am concerned that if the TV station directors or reporters refuse to do what the PCAD wants, there might be trouble."
Mr. Sunai noted that anti-government protesters are known to have assaulted journalists in the past, which a number of human rights organisations, including the United Nations, has criticized.
"Therefore, the Human Rights Watch would like the PCAD to refrain from pressuring and threatening the media … and the PCAD should promise that they will not resort to violence against the media again," said Mr. Sunai.
He also urged all media associations, newspapers, and other news outlets in Thailand to publish editorials that explicitly call for all sides of the political conflict to respect the freedom of the press.
In a press conference today, a deputy spokesperson of the ruling Pheu Thai Party accused Mr. Suthep of besieging the state-owned TV stations in order to provoke violence and pave the way for a military coup.
"At this moment, every faction in the society should unite and oppose Mr. Suthep's attempt at seizing power from the caretaker government," said the Pheu Thai spokesman, Anusorn Eiamsa-ard.
For comments, or corrections to this article please contact:[email protected]
You can also find Khaosod English on Twitter and Facebook
http://twitter.com/KhaosodEnglish
http://www.facebook.com/KhaosodEnglish