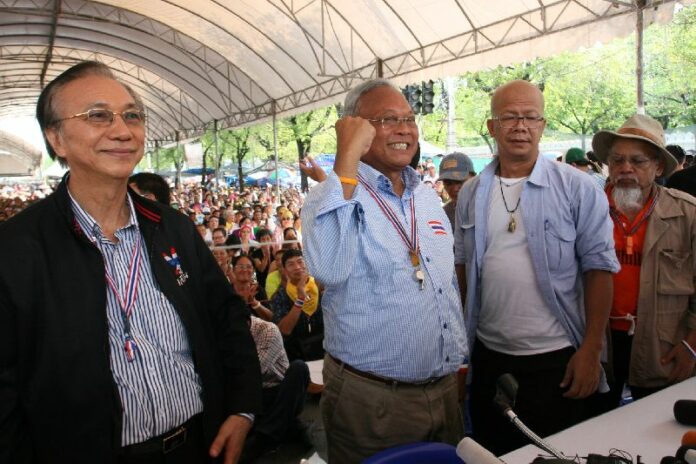 BANGKOK — Anti-government protest leader Suthep Thaugsuban is demanding the Senate and courts seek Royal Approval for an unelected Prime Minister.
Mr. Suthep, the firebrand leader of the People's Committee for Absolute Democracy With the King As Head of State (PCAD), voiced his demands during yesterday's "Final Battle," in which thousands of anti-government demonstrators took to the streets and besieged nearly all state-owned TV stations and important government buildings in Bangkok.
In a speech last night, Mr. Suthep insisted that the government has ceased to exist since ex-Prime Minister Yingluck Shinawatra was ousted by the Constitutional Court on Wednesday.
"Today Thailand has no government, and Thailand is not in the state to form a government," Mr. Suthep said. "It's a headless ghost."
He dismissed the Cabinet's appointment of a new PM, former Commerce Minister Niwatthamrong Boonsongphaisarn, calling it illegal and meaningless.
According to Mr. Suthep, the only solution for Thailand is to replace the remaining Cabinet with an unelected one, chaired by a PM appointed by His Majesty the King.
The PCAD leader called on the newly-elected Senate Speaker Surachai Liangboonlertchai to urgently "consult" with other Senators to agree on a candidate for the premiership and submit the name to His Majesty the King for his Royal Approval. Mr. Surachai is an appointed member of the Senate – which is half elected, half appointed – who is thought to be sympathetic to the anti-government cause.
Mr. Suthep also urged top judges of various courts, along with the chairman of the Election Commission (EC), to meet with the Senators and provide them with advice concerning the choice for unelected PM.
"Tomorrow is Saturday, but you must work. You must not rest. You must urgently meet with each other to proceed with these [instructions]," Mr. Suthep said.
He added, "I would like to humbly address the puuyai [elders] that they must choose someone who is honest, uncorrupt, and loyal to the country. Don't pick anyone from any political party to be Prime Minister, because the Great Mass of the People will not accept it."
Mr. Suthep stressed that his demands should not be interpreted as any sort of ultimatum or intimidation, as he was simply relaying the will of the people to the establishment.
"I would like to humbly inform you that the Great Mass of the People has been fighting for over six months now. We cannot wait any longer. This thing has to end by Monday. If you don't do it, or if you can't do it, don't be angry at me, because the people will take matters into their own hands," Mr. Suthep warned.
Pro-government supporters have repeatedly threatened a massive "resistance" if Mr. Suthep's demands for unelected Prime Minister are accepted by the establishment.
For comments, or corrections to this article please contact: [email protected]
You can also find Khaosod English on Twitter and Facebook
http://twitter.com/KhaosodEnglish
http://www.facebook.com/KhaosodEnglish